21 September 2015
By Maynard Paton
Quick update on French Connection (FCCN).
Event: Interim results published 21 September
Summary: A grim set of figures that had been flagged by an earlier profit warning. News of further store closures and maintained gross margins were reassuring in the circumstances, but the real saving grace was the relatively positive outlook for the second half. There's still a chance this share could one day prove to be a bargain, but for now its basket-case status remains intact. I continue to hold.
Price: 26p
Shares in issue: 96,178,134
Market capitalisation: £25m
Click here for my previous FCCN posts
Results: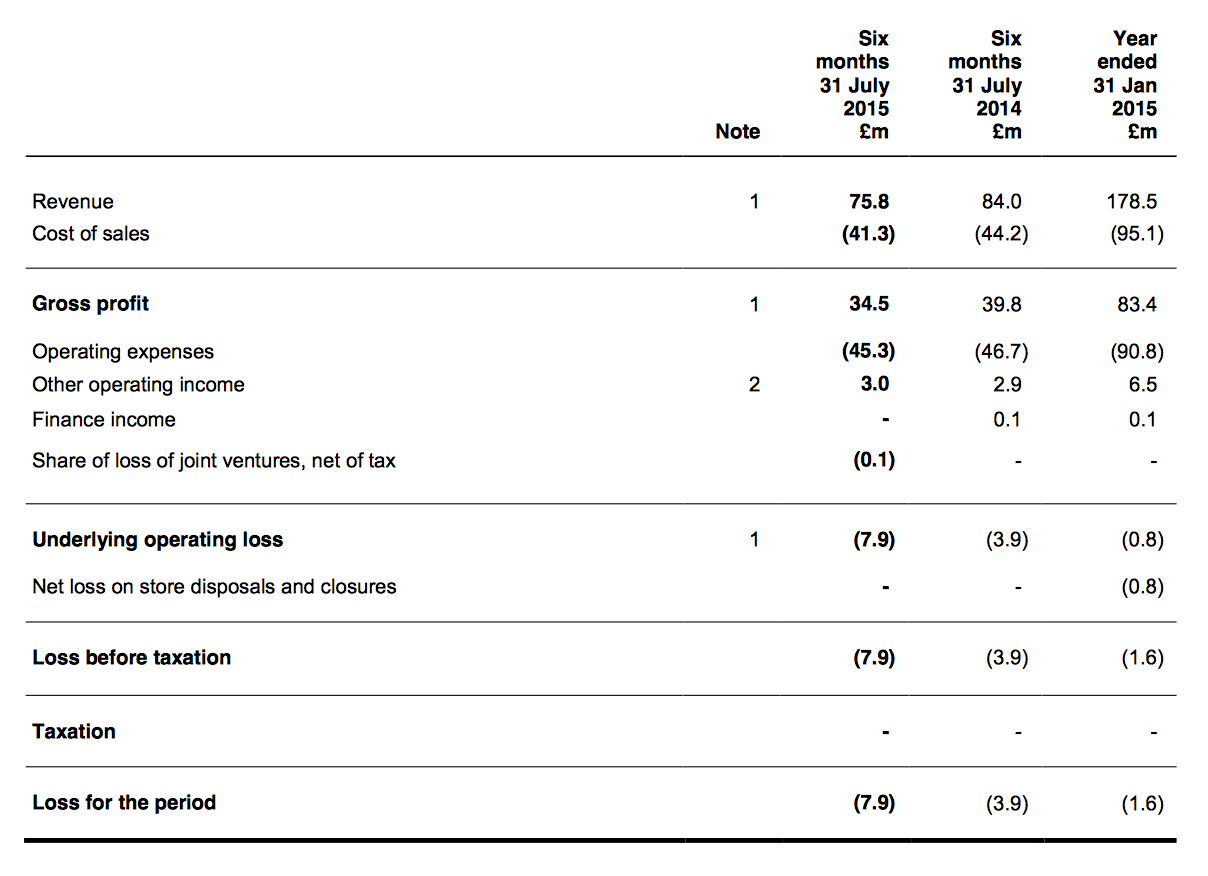 My thoughts:
* These losses were a tad higher than I had expected
April's profit warning had already suggested these interim numbers would be grim. However, an underlying £7.9m loss was a tad higher than I had expected. Adding on last year's second-half, twelve-month losses currently run at nearly £5m — with losses at the beleaguered Retail division at almost £15m(!).
All in all, the woeful performance of FCCN's Spring 2015 collection has effectively pushed the group back to where it was during 2012/13, when total losses came to £7m and Retail losses topped £15m.
A particularly galling statistic within the statement was online sales being maintained at about 22% of total Retail revenue. It actually meant online sales dived 15% to £9.5m.
The only financial 'highlight' from the Retail chain's awful performance was the gross margin — which was thankfully held at about 57% after FCCN "controlled the discounting profile".
* Thankfully further store closures are on the way
I am pleased FCCN has upped its store-closure plan.
Back in March, the group had expected to shut three or four stores during the current year, and then increased that figure to seven after April's profit warning. Now we are told six stores have been closed and a further three or four are to go during the second half.
I still feel that closing stores is the most reliable way for FCCN to stem its Retail losses. However, it remains a protracted process and may actually become even slower — you see, these results admitted the average lease length of the group's store portfolio had now advanced from 4.4 years to 5.1 years.
I also note FCCN has not repeated within its accompanying results presentation that the average lease length of its "poorer performing stores" is lower than the average. That omission tells me a number of longer-lease stores have now become "poorer performing".
* At least the rest of the business has held up reasonably well
FCCN's Wholesaling division reported profits down by £0.7m to £5.5m while its Licensing subsidiary delivered profits up by £0.1m to £3.0m. Meanwhile central costs were cut by £0.4m to £5.2m.
All told, FCCN's annual trailing profits without the horrendous Retail estate currently run at £10.2m — down from £10.4m at the previous results.
* The saving grace of this statement
Preventing these results becoming a complete disaster was a relatively upbeat verdict on the Winter 2015 product range:
"The recent performance of the Winter 15 collection has been encouraging and the negative retail LFLs we experienced in the first half have been reversed, with flat UK/Europe LFL and within that new season full price LFL of around 6.0% in the first 6 weeks of the second half. This performance reflects the changes we have put in place and was against the backdrop of soft August trading across the market. Gross margin was also stronger than the prior year during this period."
It remains to be seen whether this level of trading can be sustained into the vital Christmas period.
Anyway, I see FCCN claimed it has made "operational and personnel changes to drive improvements in performance, notably in both design and merchandising."
Sadly the changes did not extend to founder/boss Stephen Marks announcing he would step down to become a non-exec and hiring a replacement chief exec. I remain convinced a suitably talented and incentivised new leader could revive FCCN far sooner and to far greater heights than the current executives.
Plus there was no news on a replacement finance director — the current incumbent announced his forthcoming departure back in July.
* Bargain basement or basket case?
The aforementioned non-Retail profits of £10.2m compare to a current market cap of £25m. So the investment theory remains simple — if losses at the Retail division could one day disappear by closing a load of shops, the present valuation would then become the bargain of all bargains.
In fact, the shares today could still look obviously cheap even if annual Retail losses were reduced to 'just' £6m or so.
What's more, FCCN still carries net cash of £15m to bankroll a few more turnaround attempts.
Trouble is, FCCN's recovery has experienced no end of false dawns during the last ten years and investors have a genuine right to be sceptical. There's no sign of any operational change at the top and the fickle nature of fashion means an FCCN upturn may be short-lived anyway. For now at least, FCCN's basket-case status remains firmly intact.
* Next update — possibly a trading statement in November.
Maynard Paton
Disclosure: Maynard owns shares in French Connection.