17 September 2015
By Maynard Paton
Quick update on FW Thorpe (TFW).
Event: Preliminary results published 17 September
Summary: Yet another dependable set of figures, with revenue, profit and the dividend reporting further advances — and all accompanied by the usual unpretentious management commentary. That said, it is TFW's smaller divisions that are making the greatest strides at present — and it remains to be seen whether they can sustain such progress. Elsewhere, a recent acquisition is doing well and the balance sheet remains flush with cash. I continue to hold.
Price: 190p
Shares in issue: 115,675,590
Market capitalisation: £220m
Click here for my earlier TFW posts
Results: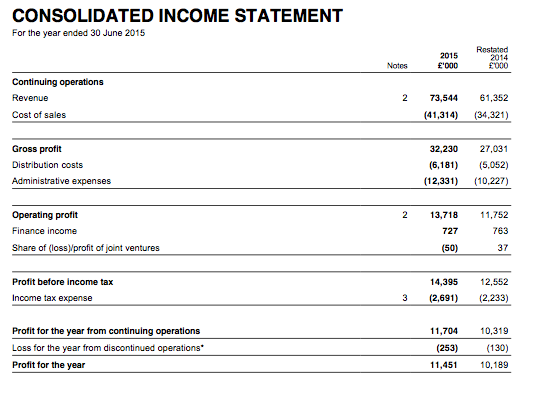 My thoughts:
* Satisfactory results with a super second-half
I was very satisfied with these figures. Excluding the contribution from a recent acquisition, revenue advanced 15% to £70.3m while operating profit gained 13% to £13.2m.
The half-year splits showed a much better performance in the second six months. Underlying profit climbed 16% during H2 versus 8% during H1:
| | | | | | | | |
| --- | --- | --- | --- | --- | --- | --- | --- |
| | H1 2014 | H2 2014 | FY 2014 | | H1 2015 | H2 2015 | FY 2015 |
| Revenue (£k) | 29,584 | 31,768 | 61,352 | | 32,629 | 37,640 | 70,269 |
| Operating profit (£k) | 5,096 | 6,656 | 11,752 | | 5,510 | 7,727 | 13,237 |
(* Excludes contribution from acquisition)
* Growth came from 'Other companies' doing well
The segmental analysis below shows how TFW remains dependent on its main Thorlux division: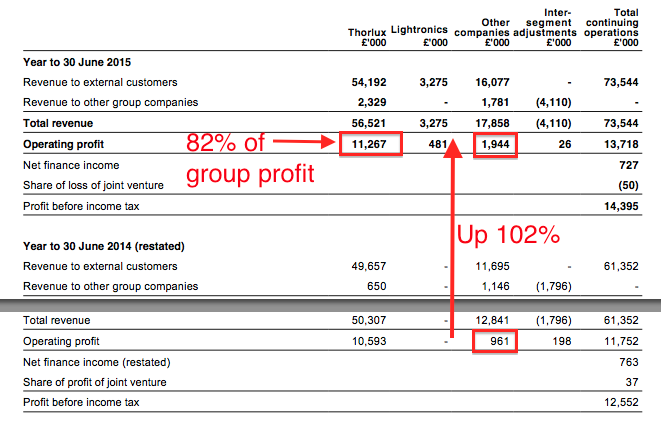 I am pleased Thorlux once again experienced solid progress, with external revenue up 9% and profit up 6% (and up 10% and 7% respectively during H2).
But it's important to note TFW's 'Other companies' — the aggregation of five of the group's six other subsidiaries — recorded the bulk of the overall growth. External revenue here was up 37% and profit was up 102% (and up 49% and 106% respectively during H2).
I think it is fair to say that these 'Other companies' will need to build on their recent performances to ensure TFW as a whole can deliver further double-digit expansion.
* Older products remain surprisingly popular
TFW's previous interim statement told me that sales of the group's LED products had surged 80% to represent 58% of the top line.
However, these final results admitted the LED sales proportion had since increased only "marginally". It seems as if many TFW customers still like traditional lighting systems:
"The future is still definitely LED especially with a possible upstart contender in OLEDs or Organic LEDs apparently dropping away: it seems due to technical problems of realising sufficient efficiency in translating power consumed into useful light.

Traditional light sources remain in demand and it can be reported that your company has been surprised at the level of such products requested during this summer period.

The problem this causes in the number of variants required to be manufactured therefore remains and, I think, this is a problem that will be with us for longer than we assumed and for some years to come."
I am not sure what to make of this situation. On the one hand, it suggests TFW's older products are so good that customers continue to buy them despite the industry's technical advances. But on the other, maintaining production of both LED and non-LED devices does lead to additional costs.
For what it is worth, I am just pleased customers remain keen to order TFW products — whether these products are LED-based or not.
I see group margins were a healthy 19% during the year, so the extra costs do not seem too burdensome at present. (I just wonder how high TFW's margins would be if all customers ordered only LED lighting!)
* Acquisition appears to be doing well
I am glad TFW's recent acquisition has been trading "ahead of expectation".
If you remember, TFW announced in April that it had purchased a Dutch lighting firm for approximately £9m. I said at the time the deal seemed sensible.
Anyway, these results revealed the Dutch firm would have produced revenue of £10.9m and a £1.2m operating profit had it been acquired at the start of the year — in line with the performance stated at the time of purchase.
TFW spent £6.4m to i) buy 65% of the Dutch firm and ii) clear £1.5m of associated net debt. The other 35% will be acquired within the next six years — and the acquisition's trading performance so far has meant TFW has had to increase its final payout estimate by 28% (to £3.8m).
TFW should have no problems paying that earn-out, what with net cash and various investments coming to almost £39m (34p per share).
Valuation
* Including a full-year contribution from the new Dutch subsidiary, trailing operating profits now stand at £12.4m and, taxed at a standard 20%, would produce earnings of £11.6m or 10.0p per share.
* Adjusting for the group's net cash, investments and that acquisition earn-out, I make TFW's enterprise value (EV) to be £185m or 160p per share with the present £220m market cap and 190p share price.
* Dividing that 160p EV figure by my 10.0p earnings guess, I arrive at a P/E of 16. That multiple does not look an obvious bargain to me — although it could be considered quite fair if TFW continues to report double-digit profit advances.
Meanwhile, the trailing 3.65p per share dividend pays a mean 1.9% income.
* Next events: Ex-div 22 October, AGM 12 November, 2.55p dividend paid 19 November
Maynard Paton
Disclosure: Maynard owns shares in FW Thorpe.