17 March 2017
By Maynard Paton
Quick update on FW Thorpe (TFW).
Event: Interim results for the six months to 31 December 2016 published 16 March 2017
Summary: Once again this lighting specialist has issued a very satisfactory set of results. The highlight was the performance of the group's main division, which following a few subdued years has suddenly enjoyed a step-change to its financial progress. TFW's other divisions reported impressive numbers, too, while the balance sheet remains teeming with surplus cash and investments. Throw in a coded management 'upgrade' for the full year and it's perhaps no surprise the shares presently trade on an extended rating. I continue to hold.
Price: 320p
Shares in issue: 115,675,590
Market capitalisation: £370m
Click here for my earlier TFW posts
Results: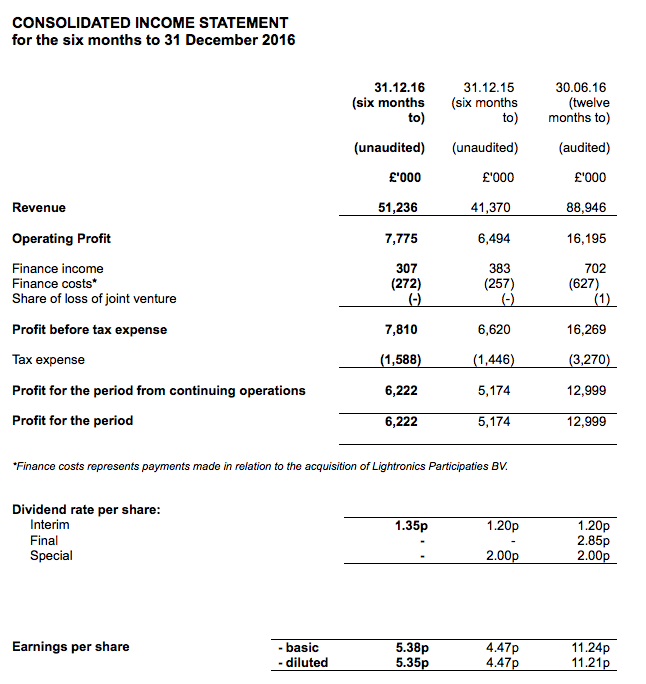 My thoughts:
* Growth of 20%, but no mention of currencies
November's positive AGM statement had already suggested these first-half results could be very satisfactory.
In the event, revenue advanced 24% while operating profit gained 20%. The headline numbers were the first for 18 months that did not require any adjusting for a Dutch acquisition completed in April 2015.
TFW's statement was somewhat unusual in light of the present economic climate, as there was no mention of currency movements. Some 28% of last year's revenue was produced overseas and I wonder whether the weaker GBP helped bolster these figures.
* Sudden step-change at Thorlux 
The chairman's statement referred to an "exceptionally buoyant" first half at Thorlux, the group's largest division.
I suspect Thorlux's performance was supported by the division gaining extra income from not only manufacturing lights, but starting to install them for customers as well. At least that was the impression given within TFW's 2016 annual report.
Either way, what is clear is that there has been a sudden step-change within Thorlux's financial progress.
The division's six-monthly revenue previously ran at about £27m and profit growth was mid-single digits. Now six-month revenue has jumped to £31m while H1 profit has improved 15%:
| | | | | | | | |
| --- | --- | --- | --- | --- | --- | --- | --- |
| Thorlux | H1 2015 | H2 2015 | | H1 2016 | H2 2016 | | H1 2017 |
| Revenue (£k) | 26,601 | 27,591 | | 26,846 | 27,311 | | 31,470 |
| Operating profit (£k) | 5,105 | 6,162 | | 5,166 | 6,633 | | 5,933 |
TFW's statement admitted Thorlux's H1 profitability had been hampered by greater levels of staff overtime to "satisfy the spikes in customer demand".
However, the group admitted "it [was] unlikely… such levels of activity will persist", which I guess means Thorlux's second half may not be as productive.
Anyway, despite the overtime, Thorlux's H1 margin was still a robust 19% to support the wider 15% group margin.
* Impressive progress at Lightronics and 'Other' UK divisions
The performance of TFW's Dutch acquisition, Lightronics, continues to impress.
Following a tremendous 2016 performance, this H1 witnessed Lightronics revenue climb a further 38% to £9.7m and profit jump another 57% to £1.1m.
"One off projects" were said to have helped the Dutch operation.
(I note the sum TFW owes to Lightronics' former owners as an 'earn-out' has increased once again and now stands at £4.8m).
Meanwhile, TFW's handful of smaller UK divisions collectively put in another strong effort. Revenue here climbed 34% to £10.0m and took operating profit 45% higher to £0.6m.
* Cash flow and balance sheet
I could find nothing untoward within TFW's cash flow statement.
Favourable working-capital movements were counterbalanced by modestly higher capex, and an extra £2m was added to the group's bank balance.
I calculate TFW's cash and investments now stand at £39m, with various other 'surplus' financial assets and the Lightronics earn-out liability taking the overall financial position to £41m (or 36p per share).
I am pleased TFW's final-salary pension scheme continues to show a surplus.
Valuation
Operating profit for the year ending December 2016 was £17.4m and, after applying tax at the 20% seen in this H1 statement, earnings come to about £14.0m or 12.1p per share.
Adjusting the present £370m market cap (at 320p) for the group's net cash, investments and the Lightronics earn-out, I come to an enterprise value (EV) of £329m or 284p per share.
Dividing that 284p per share EV figure by my 12.1p earnings guess gives me a trailing P/E of 23.
Back in September my sums pointed to a multiple of 19 and I remarked: "I suppose that multiple is understandable given the recent performance of Lightronics and the chance this new division could help deliver double-digit growth for the wider group in the coming year."
With Thorlux and the 'Other' UK operations now joining Lightronics to boast impressive double-digit growth, I suppose it is no surprise the multiple has since extended to 23.
But just how long TFW can sustain the 20% expansion pace seen in this H1 statement remains to be seen.
Interestingly, the group's seasoned managers look to have 'upgraded' their full-year outlook — they were previously "cautiously optimistic" but are now simply  "optimistic". The executives here are about as conservative as they come, so perhaps there is the possibility a superior growth rate can be maintained.
Finally, TFW's dividend policy remains as tight-fisted as ever.
Although this interim payout was lifted 12.5%, the trailing 4.2p per share payout is a sizeable three times covered by my earnings guess — and a hefty nine times covered by the cash and investment hoard.
The yield at 320p is 1.3%.
Maynard Paton
Disclosure: Maynard owns shares in FW Thorpe.