06 September 2016
By Maynard Paton
Quick update on Tasty (TAST).
Event: Interim results for the 27 weeks to 03 July 2016 published 06 September 2016
Summary: These results were very mixed. I am pleased the restaurant chain's revenue growth has improved following the 'blip' in the second half of last year, but disappointed the roll-out plan has slowed a little. Margins have also shrunk due to greater expansion costs. Mind you, the board here remains a class act while the longer-term potential is still considerable. I sold some shares before these results and I continue to hold the rest.
Price: 170p
Shares in issue: 53,360,324
Market capitalisation: £90.7m
Click here for all my previous TAST posts
Results: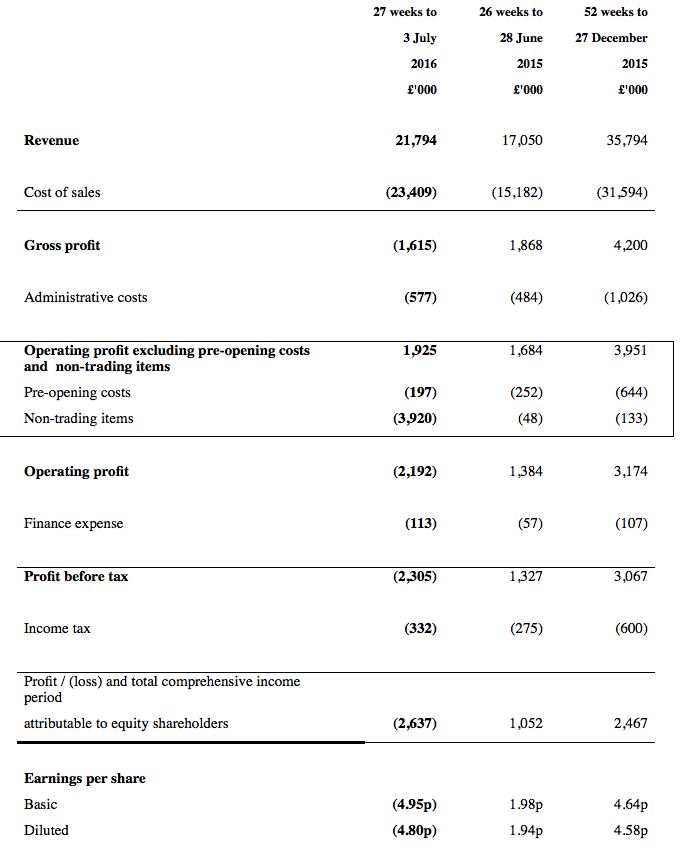 My thoughts:
* I must admit to having felt uneasy ahead of these results
You may recall that TAST's 2015 annual results had previously caused me a few worries.
In particular, I deduced slower sales growth was recorded during the second half, and noted management remarks about additional costs to handle the group's expansion.
In addition, I had tracked the number of new restaurant openings this year — 7 so far — and thought that was somewhat low given the chain's stated target of 15.
All in all, I felt a little uneasy during the summer, worrying that perhaps the slower roll-out was signalling the H2 sales issue had not been resolved — and yet costs were rising.
Given TAST also sported a rich share-price rating and represented my largest portfolio holding, I decided to trim my position ahead of this H1 statement. I sold 11% of my holding at 184p after all costs.
In the event, these results provided some encouragement on the sales front. However, the additional expansion charges have now come through and I am a tad disappointed about the roll-out schedule.
* Encouraging revenue news after last year's H2
These results showcased revenue up 28% to £21.8m.
The top-line performance was supported by four new restaurants (taking the estate to 52 at the half-year) and an extra trading week.
I calculate annualised revenue per outlet ran at £856k during this first half, which compares favourably to the disappointing £833k produced during H2 last year.
However, the £856k produced this time was below the £874k revenue per unit run-rate witnessed during H1 2015. So I guess there is scope for further improvement.
Mind you, revenue per restaurant may well decline over time as extra sites are opened outside of London.
Furthermore, TAST admitted within today's statement that five of its restaurants had not performed to expectations (and had created a £3,576k write-off).
So perhaps the lower revenue per site versus last year's H1 was due to these five particular outlets, rather than a general slowdown across the group.
(I note that TAST has kept the five under-performing sites open).
Anyway, at the AGM in May, TAST's management claimed the chain had suffered a "slight blip" with last year's H2 trading. Overall I am glad there has now been an improvement and the "slight blip" has not become something more sinister.
* Restaurant openings may not reach the 15 target 
I am a tad disappointed with TAST's opening schedule for new restaurants.
March's annual results had signalled 15 new sites would be opened during 2016 — but only seven have started trading, with a further three under construction and at least a further four to start construction after this month.
So it looks as if it is touch and go as to whether the firm will hit its target of 15 openings.
It's not clear to me why just four new sites were opened in the half.
Perhaps a temporary hold was placed on signing new leases because the chain wanted to resolve the trading 'blip' from the previous H2. Or maybe the group's new property director simply wanted to re-jig the expansion plan.
(I should add that the new property director used to work for Prezzo (PRZ), where he oversaw 30 restaurant openings a year)
At least these results confirmed TAST wants to open a further 15 sites during 2017.
I must be honest, I had hoped for more than 15 for 2017 after talk at the AGM mentioned the firm aiming for "20 a year" at some point.
* Greater costs now appearing and hindering margins
TAST's 2015 results hinted strongly at greater costs to assist the group's expansion,  and these results confirmed the additional investment:
"The Group has successfully implemented its programme of operational improvements during the period which has included changes to the central kitchen infrastructure and upgrades to a number of key systems.  

Appointments have been made across the Group in: Operations, Marketing, Finance and HR departments to support future openings and the Group's expansion.  The Group websites and the wider digital marketing strategy continue to be developed as planned."
The cost of the improvements caused the H1 gross margin to drop from 11.0% to 10.3% and the H1 operating margin to fall from 8.1% to 7.7% (or from 9.6% to 8.6% before pre-opening costs).
The decline correlated with management comments at the AGM,  which said margins for 2016 would be "slightly down".
I'd like to think the majority of TAST's improvement costs are now in place and that margins for 2017 and beyond can at least be sustained as revenue continues to advance.
* Further debt funding looks likely
The half year witnessed the firm's net debt position expand from £3.5m to £7.4m as a further £5.0m was spent on new restaurants.
Just before the half-year end, the group was granted an enlarged banking facility — from £8m to £12m.
TAST still has £2m to draw down from that facility, and with £2.6m of cash in the bank, plus annual operating cash flow of, say, £6m, the business could in theory spend almost £11m on new sites this year.
However, I don't believe £11m is enough to fund the target 15 new restaurants when the last 18 months have seen almost £15m spent on opening 16 new sites.
For what it's worth, management talk at the AGM disclosed the group needed about 100 restaurants to become self-funding — and that new funds could be raised either by extra debt and/or a share placing.
At least the cost of TAST's loans do not appear onerous. The interest charge for the last six months came to £113k on average debt of £7.9m — I make that to be annualised interest at just 3%.
Valuation
* I continue to believe TAST can become 'the next PRZ'
I have always felt that TAST could become a lucrative investment for long-time shareholders.
The boardroom comprises two members of the Kaye family, who have already built and sold multi-bagger chains ASK Central for £223m (in 2004) and PRZ for £304m (in 2015). I remain hopeful the Kayes can complete the hat-trick with TAST.
To put the upside possibilities into perspective, PRZ was acquired early last year for £304m when it operated with 245 restaurants, and that is the scale I hope TAST can one day reach (TAST is currently valued at £91m and operates with 55 restaurants).
That said, notable differences are now emerging between TAST's current progress and PRZ's growth record.
For example, PRZ never took on debt and bought some freeholds, while TAST has taken on debt and its estate is entirely leasehold.
If I adjust for PRZ's freeholds, that 'target' market cap is reduced from £304m to £274m. And if I consider TAST's debt, I really ought to be using the group's current enterprise value of £98m to judge the possible upside.
So… whereas I could project TAST going from £91m to £304m and a possible 234% gain, a more conservative view perhaps is going from £98m to £274m and a potential 180% return. Accounting for TAST's outstanding options would then reduce that 180% return further.
Another notable difference beginning to emerge between PRZ and TAST concerns margins.
Back in 2005 when PRZ's estate expanded from 48 to 72 sites, its operating margin was 15%.
In contrast, TAST's margin appears unlikely to top 10% this year with between 50 and 60 sites. I just wonder if that lower margin may in time reflect a lower potential future value for TAST.
All that said, I must remember it has never really paid to bet against the Kaye family — even though TAST's present roll-out may be a little slower than I had anticipated.
No doubt in the years to come I will regret selling 11% of my holding… as TAST expands to beyond 200 sites and ends up being sold for a lot more than the 184p a share I received!
Maynard Paton
Disclosure: Maynard owns shares in Tasty.