15 December 2015
By Maynard Paton
Quick update on Tristel (TSTL).
Event: AGM statement published 15 December
Summary: It looks as if this medical-wipes specialist is all set to surpass profit expectations for 2016, and probably its own targets for 2017 as well. Throw in some new (to me) speculation about deals with FTSE multinationals, and it's no wonder the share price has performed so well of late. In fact, this holding has grown to become 18% of my portfolio — and I must admit to some nerves given the premium growth rating. Anyway, I continue to hold.
Price: 145p
Shares in issue: 42,145,201
Market capitalisation: £61m
Statement:
My thoughts:
* No disclosure of revenue at the AGM
I was a little surprised TSTL did not disclose an expected first-half revenue figure within today's AGM statement.
AGM updates for both 2014 and 2013 contained such numbers and its absence this time around may indicate the top-line did not perform as well as management had hoped.
Nonetheless, it appears pre-tax profit (before share-based payments) for H1 will improve by at least £0.3m — a substantial 27%-plus — to not less than £1.4m. So I presume there was indeed a notable top-line advance.
H2 of last year produced a £1.5m pre-tax profit, so it looks as if the twelve months to December 2015 will witness a £2.9m pre-tax profit — which matches the earlier estimate for the twelve months to June 2016 issued by the chaps at broker Equity Development: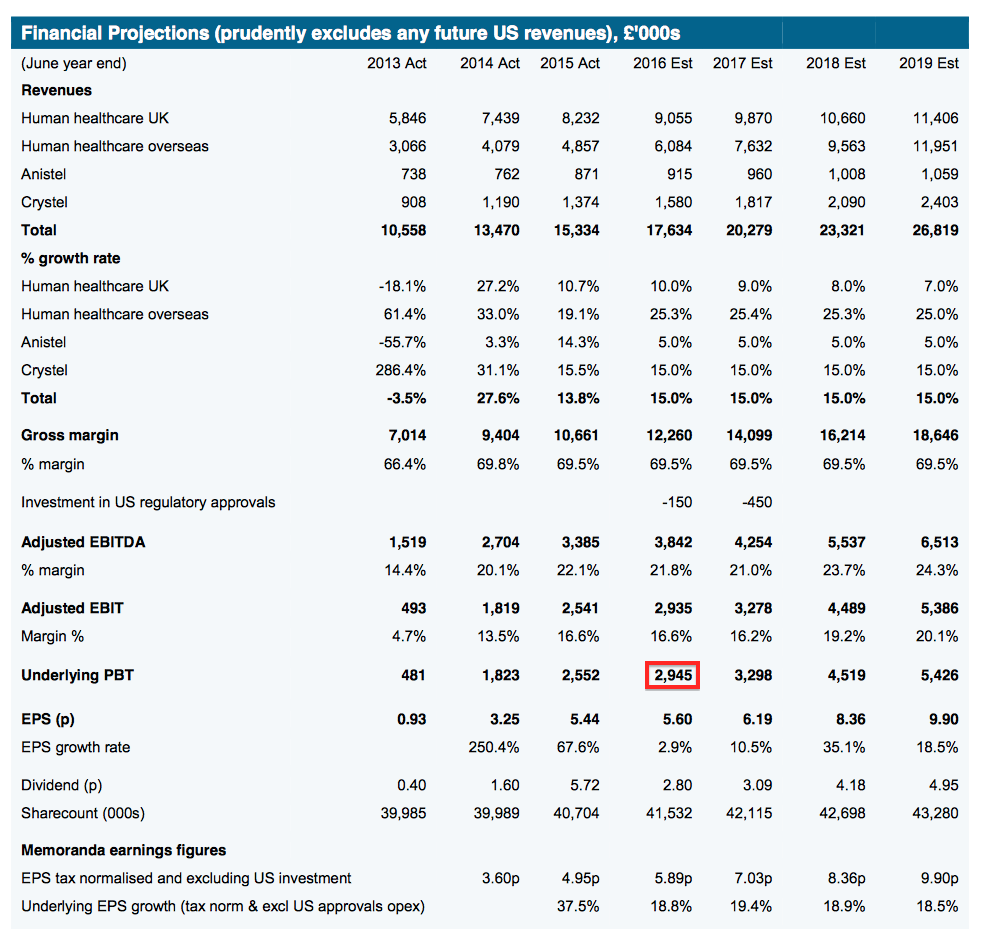 As such, I wonder if there is scope for TSTL to surpass the City forecast for the full year. I noted in my last Blog post that TSTL had 'sandbagged' previous trading statements and that the last annual report contained 'one offs' of £200k that depressed reported earnings.
* City speculation on a "major break-through"
I see the latest note from broker Equity Development carries details of a "major break-through" and some associated speculation, all of which is new to me: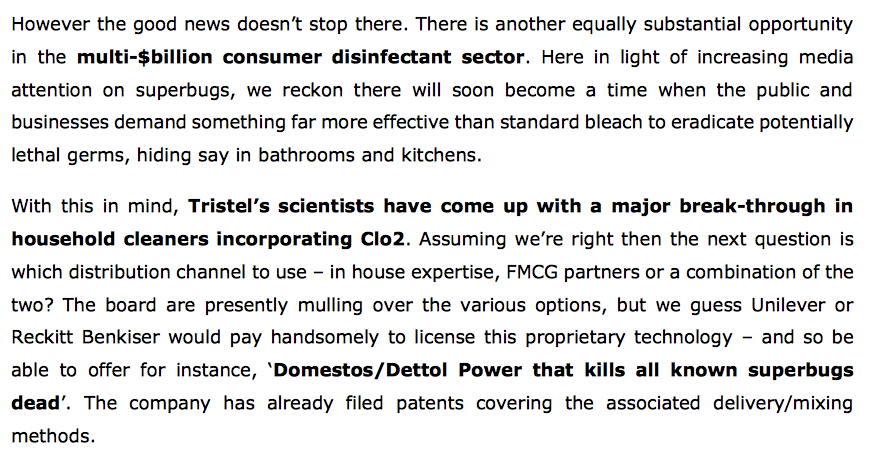 TSTL's website no longer links to the group's domestic products, but a quick search found this page:
As far as I can recall, TSTL has never really highlighted its range of domestic products — possibly because the directors have been too busy managing the ups and downs experienced by the firm's main hospital disinfectants.
However, with the business presently on a stable footing, I dare say re-evaluating products for the home now makes sense.
Naturally I have no idea whether a handsome licensing deal with a FTSE multinational is in the offing — but I shall keep my fingers crossed!
Valuation
With pre-tax profit running at £2.9m and tax applied at a standard 20%, I reckon current earnings could be around 5.5p per share.
Taking surplus net cash to be £2.8m or 7p per share, my estimate of TSTL's enterprise value is £58m or 138p per share.
Dividing that 138p by my 5.5p earnings guess gives a trailing cash-adjusted P/E of 25.
I wrote in October that, using TSTL's 2017 targets of £20m revenue and at least 15% margins (and again applying a standard 20% UK tax rate), earnings could be at least 5.8p per share within two years.
I must admit, that 5.8p projection is now looking a tad pessimistic given the group's current profitability.
Whatever TSTL's 2017 earnings turn out to be, it's clear the current share price is expecting a fair amount of future profit growth. No doubt the potential for revenue (one day) from the US, plus speculation involving Reckitt Benckiser and Unilever, is helping to excite investors right now.
All told, I am happy to hold TSTL but I must admit some nerves given the share has grown to become 18% of my portfolio. I suspect I may have to top-slice this holding in time as and when I want to reinvest in bargains elsewhere.
Next events — 2.135p final dividend to be paid on 18 December, interim results to be published 24 February 2016.
Maynard Paton
Disclosure: Maynard owns shares in Tristel.