13 November 2015
By Maynard Paton
Quick update on Castings (CGS).
Event: Interim results published 13 November
Summary: Just what I like — a concise set of results that reports steady progress and robust financials. In fact, I could not find anything to complain about, with revenue up, profit up, cash up, the dividend up,  plus the prospect of further growth during the second half. What's more, the share price does not look that expensive. I continue to hold.
Price: 450p
Shares in issue: 43,632,068
Market capitalisation: £196m
Click here for all my previous CGS posts
Results: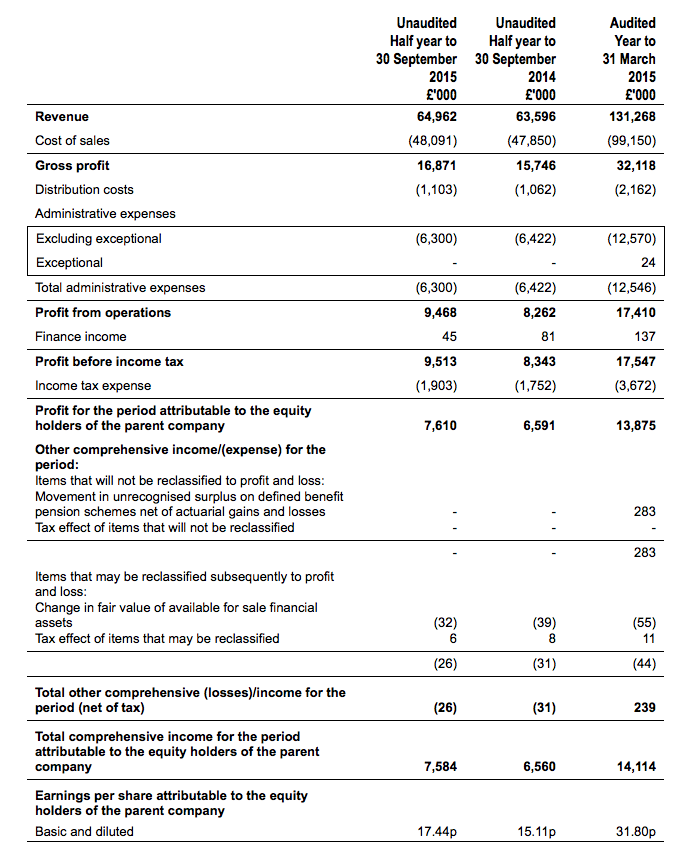 My thoughts:
* Another sparse update, which contained a minor sales wobble
True to form, CGS issued these interims with minimal commentary. Here is the entire trading narrative:
"Sales for the six months ended 30 September 2015 were £65.0m (2014 – £63.6m) with profit before tax of £9.51m (2014 – £8.34m).

Sales revenue has been affected by the general reduction in raw material prices during the period making it difficult to directly compare to the previous year.

It was reported at the Annual General Meeting in August that sales volumes were maintaining at reasonable levels. It appears for the next three months that orders and schedules will remain at a similar level.

It is anticipated that the profits for the full year will meet market expectations, unless there is a sudden and unexpected change in the economic climate that would affect the outcome."
I am not too worried about the reference to revenue being affected by the lower cost of raw materials. CGS's annual report says the group's sales contracts contain price-adjustment clauses, which suggests an element of revenue is dictated by external commodity values.
Importantly for me, CGS confirmed sales volumes had been maintained  and, with H1 operating profit up 14%, I'm pleased full-year earnings ought to progress further.
* Respectable financials
These results emphasised CGS's respectable accounts.
The group's operating margin was a decent 14.5%, and I see the Machining division scored a healthy 26% margin before central costs. Indeed, profit at the Machining division gained an impressive 38% to £2.6m.
Cash flow looked fine to me, too, with the bank balance adding almost £2m to £32.3m. The balance sheet continues to carry no debt as well as a £6.8m refund that's due from the company's over-funded pension scheme.
Valuation
Trailing operating profit now runs at  £18.6m, which after 20% standard tax would equate to earnings of £14.9m or 34.1p per share.
Subtracting the £32.3m, or 74p per share, net cash position from the £196m market cap, my estimate of CGS's enterprise value (EV) is £164m or 376p per share.
Dividing that 376p per share by my 34.1p per share EPS calculation gives a multiple of 11 at the present 450p share price. That rating does not look expensive to me.
Meanwhile, the interim dividend was upped 5% and the trailing payout now comes to 13.46p per share to support a 3.0% income.
* Next events — ex-div 27 November, 3.38p dividend paid 4 January 2016, annual results June 2016.
Maynard Paton
Disclosure: Maynard owns shares in Castings.