30 June 2015
By Maynard Paton
Happy Tuesday! I trust your shares are holding up in this tricky market and that you continue to find my Blog useful.
I've been in this full-time investment lark for six months now — and I am pleased to say that I have still not lost everything just yet!
Indeed, my portfolio has witnessed further gains of late — so much so that I reckon I am now beating the market so far this year. Nonetheless, I continue to hold a few standstill shares that I would love to see move higher!
What did Buffett say about lethargy and sloths?
I mentioned in my Q1 update that I'd decided to publish a Blog post after every quarter to round-up what's been happening within my portfolio. So here is the recap of my April/May/June activity — or lack of it!
The table below shows how my portfolio stood at the start of the year, at the end of March and at the end of June:
Holding
Weighting
01 Jan 2015 (%)
Weighting
31 Mar 2015 (%)
Weighting
30 Jun 2015 (%)
Andrews Sykes
3.0
3.0
3.1
Burford Capital
4.5
-
-
City of London Inv
13.4
13.3
12.4
Electronic Data Proc
3.3
3.3
3.0
French Connection
9.4
8.0
6.5
Getech
5.3
6.4
6.7
Mincon
-
3.1
2.7
Mountview Estates
10.6
10.1
10.9
Pennant International
5.1
-
-
Record
4.7
8.3
9.7
SeaEnergy
7.4
-
-
Tasty
8.8
10.5
9.4
FW Thorpe
6.2
6.7
7.4
Tristel
13.1
11.2
14.8
M Winkworth
0.8
0.8
1.0
World Careers Network
-
4.7
3.2
Cash
4.4
10.6
9.2
TOTAL
100.0
100.0
100.0
I explained why I sold my shares in Pennant International, Burford Capital and SeaEnergy in my Q1 review.
I wrote at the time:
"Supporting all three of my sell decisions was the fact that I wanted to have some cash ready to bag any potential bargains as and when the market suffers a setback. I just didn't want to be extricating myself from those three shares — possibly at awful prices — when I suddenly spot a great buying opportunity."
Well, if the Greece situation deteriorates further, then maybe that great buying opportunity will finally arise!
I am playing The Loser's Game
As it is, though, I've purchased only one share during the last three months — a top-up of Record (REC).
I felt the latest results from the currency specialist were encouraging, not least the 10% dividend lift, while the shares appeared attractively priced given the firm's apparent recovery. I outlined why I bought more REC shares in this Blog post.
Among my other holdings, I have not bought or sold a single share.
The lack of trading may not appear exciting, but I have learnt over time that 'exciting' within the stock market does not usually translate into 'profitable'. Instead, I prefer to take the dull route to potential riches, not least by "making fewer and perhaps better investment decisions". That was the advice I took from The Loser's Game many years ago — and it transformed my investing.
I am a tad nervous about these two holdings
Although my portfolio has been mostly inactive since April, I have kept tabs on all of my existing holdings — trying to seek out bargain buys just in case.
Here is a summary of developments:
No news from City of London Investment, FW Thorpe, Getech and Tasty.
I must admit to being a tad nervous about French Connection and Getech.
The former has already warned on profits this year and I have to confess I have written privately to the fashion chain's chairman, Stephen Marks, to encourage changes to the board.
To cut a long letter short, I suggested to Mr Marks that he: i) step down to become a non-executive, and; ii) appoint a new and incentivised chief executive to transform the business into a pure licensing and wholesale business.
Mr Marks has apparently "made note" of my "forthright views".
Anyway, I see Alexa.com is showing traffic to frenchconnection.com has recovered dramatically during recent weeks: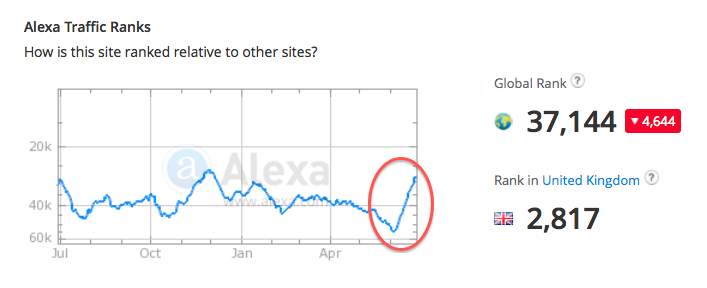 I hope that bodes well for the next trading update.
Meanwhile, Getech remains heavily exposed to the oil and gas sector and I wonder if it is only a matter of time before a profit alert is issued. However, the group's latest results were surprisingly resilient and the share price does seem to be pricing in some disappointment already. Should I be selling? Only time will tell.
I could revisit these borderline decisions
I said back in April that I had struggled to find decent companies trading at reasonable valuations. That's not really changed — as my trawling for suitable watch-list names has drawn only one extra candidate.
As with most 'obviously good companies' at present, Bioventix has a share price to match its attractive qualities. But you never know — the business could one day hit a rough patch and the current valuation may subside.
Elsewhere, I couldn't find enough to tempt me to buy BP Marsh, Cenkos, Dewhurst, Numis and Zytronic despite what appeared to be some lowly share prices.
You could say they all looked cheap for a reason, although I would not rule out revisiting some of those shares in the future if things were to change. Dewhurst and Zytronic in particular were borderline decisions to reject for my watch list.
I have seven shares in the exclusive StockRank green zone
So that rounds-up my portfolio and Blog for the last three months. I'll publish the next summary during early October. But before I go, just one more thing…
I am a subscriber to Stockopedia and have noted the positive progress of the website's StockRank facility.
I won't bore you with the full details, but Stockopedia analyses every share on various Quality, Value and Momentum factors, and calculates what it calls a StockRank. Basically, the higher the StockRank, the greater the investment potential (in theory).
Anyway, the chart below underlines how the top decile of StockRanks has handily outperformed all other shares during the last two years:
It's impressive stuff, so I've assessed my portfolio on this StockRank system… and found I possess a mixed bag: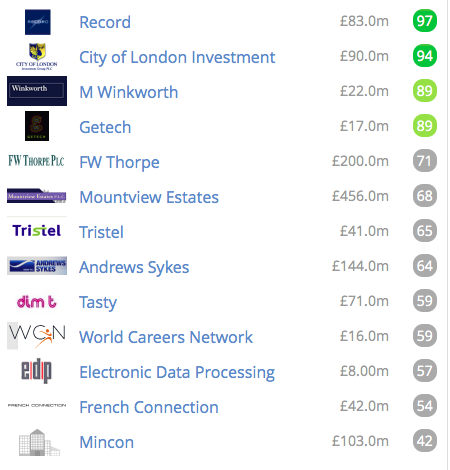 At least on Stockopedia's Quality and Value measures, I am reasonably pleased to have seven names in the exclusive green zone, six names floating in no man's land and nothing in the red danger zone: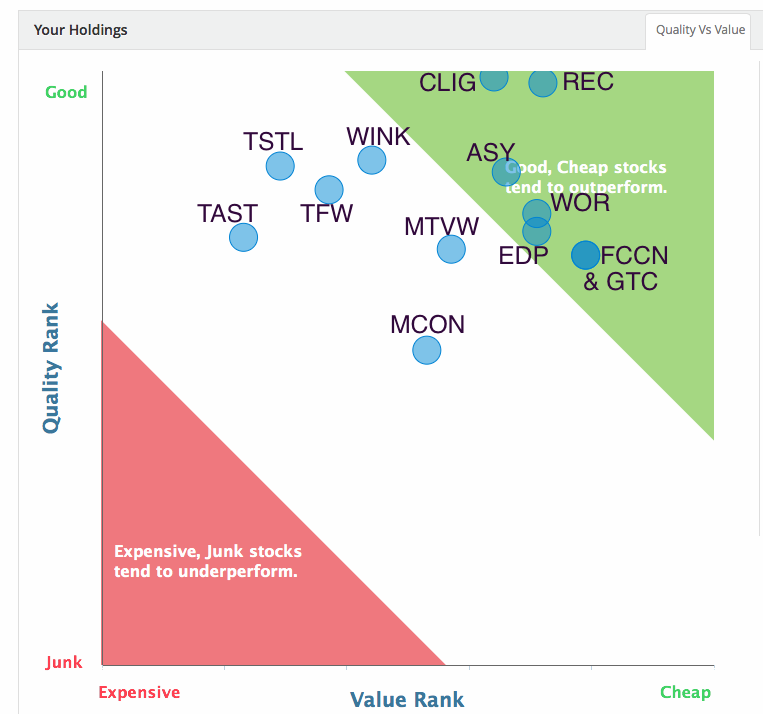 It will be fascinating to discover whether those in the green do indeed perform better than the rest.
Just so you know, Stockopedia's database currently declares these 15 shares as the market's top StockRank-ed shares: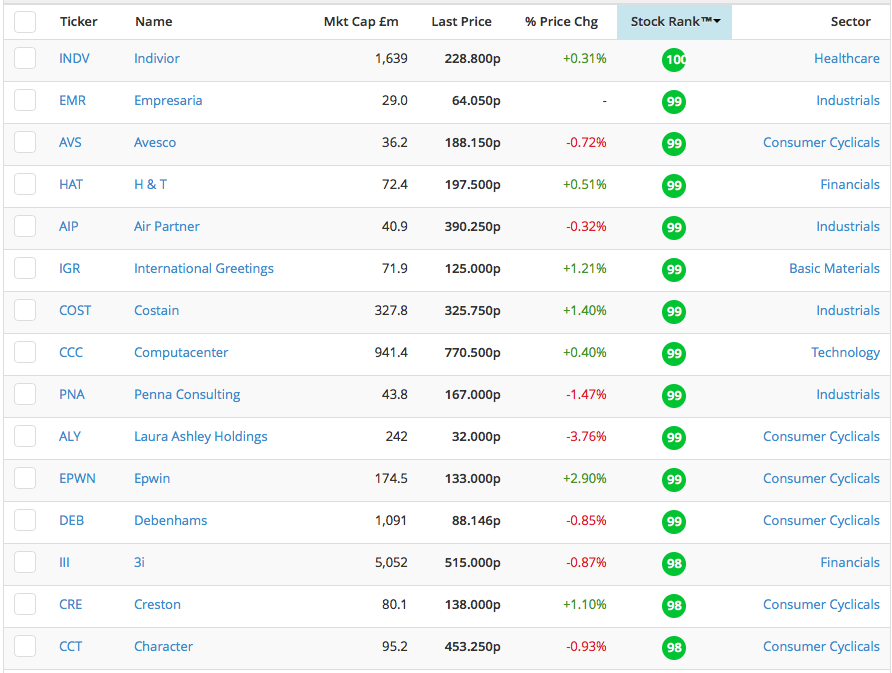 Let's see if my portfolio can outperform that lot!
Until next time, I wish you happy and profitable investing!
Maynard Paton
Disclosure: Maynard owns shares in Andrews Sykes, City of London Investment, Electronic Data Processing, French Connection, Getech, Mincon, Mountview Estates, Record, Tasty, FW Thorpe, Tristel, M Winkworth and World Careers Network.