26 June 2015
By Maynard Paton
Quick update on Mountview Estates (MTVW).
Event: Preliminary results published 25 June
Summary: MTVW's best-ever results, albeit they included what looks to have been quite a weak finish to the year. Importantly, gross margins were high and management's outlook continues to be positive. Furthermore, the dividend marched upwards once again. My sums point to a possible NAV of £180-plus per share based on the firm's previous gains from its sold properties. I continue to hold.
Price: £120
Shares in issue: 3,899,014
Market capitalisation: £468m
Click here for my previous MTVW posts
Results: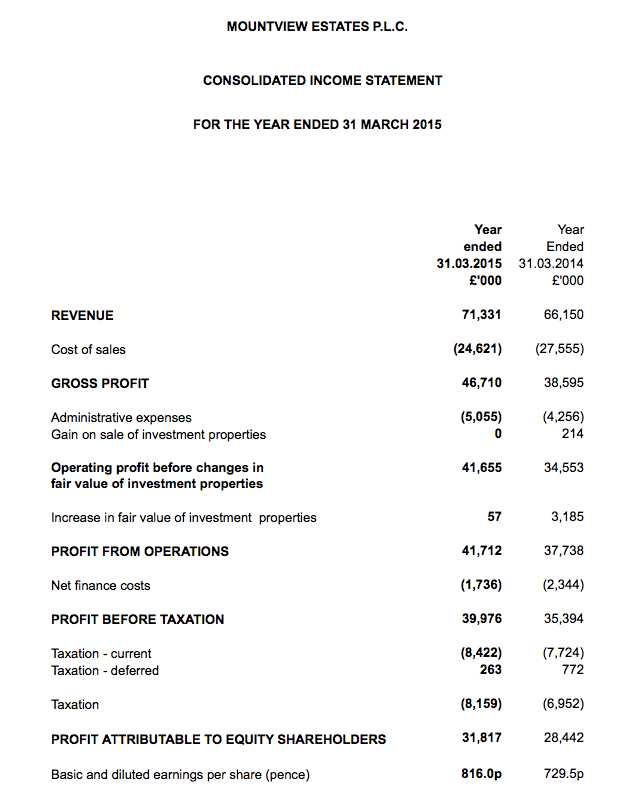 My thoughts:
* Sparse management commentary and minimum accounting info
MTVW traditionally provides little detail within its RNS statements, which is not great. However, I can live with the sparse updates given the group's illustrious long-term record — the dividend has grown at a 13.5% average during the last 25 years!
The forthcoming annual report will contain much more information, so until that's published my current verdict involves a fair bit of guesswork. When the annual report is released, I'll post a comment to this Blog post that evaluates the extra information.
* These results were actually a record
You would not know it from the sparse management commentary, but these results were actually a record for the residential-property investing firm.
Revenue, gross profits and operating profit (before changes in the fair value of investment properties) were all ahead of the group's previous peaks set during 2007.
Indeed, it is probably worth mentioning that since 2007 and the top of the property market, MTVW's net asset value has still managed to advance 66% and the dividend has improved by 83%.
* H1 better than H2…but did the end of the year finish weak? 
MTVW described the results as an "enhanced performance", although progress was weighted towards the first half:
| | | | | | | | |
| --- | --- | --- | --- | --- | --- | --- | --- |
| | H1 2014 | H2 2014 | FY 2014 | | H1 2015 | H2 2015 | FY 2015 |
| Revenue (£k) | 28,825 | 37,325 | 66,150 | | 36,900 | 34,431 | 71,331 |
| Gross profit (£k) | 15,894 | 22,701 | 38,595 | | 24,106 | 22,604 | 46,710 |
In fact, a statement in February said gross profits had improved by 41% during the first 10 months of the year, which compares to the 21% advance for the full year. The implication here is that gross profits for the final two months of the year were very weak.
I am not too concerned about a possible weak Q4. The nature of MTVW's properties means they become available for sale at any time (usually when the sitting tenant leaves or dies) and revenue from month to month can therefore be unpredictable.
What's more important to me is the gross margin — that is, the gain MTVW makes from selling its properties over their original cost. So I am pleased the overall gross margin throughout last year was 65% — the highest for seven years.
* Upbeat outlook
MTVW seemed positive on the future:
"Borrowings have been reduced and we are still able to make good purchases."
At £60m, net debt is the lowest since 2007.
Lifting the annual dividend by 37.5% showed some confidence, too.
* No news of management succession 
This time last year MTVW said:
"Duncan Sinclair has been with the Company for 43 years, during which he has occupied the positions of Company Secretary, Director, Executive Chairman and Chief Executive.  The Company has grown and developed significantly since Duncan became Chief Executive in 1990.  The search to find and establish Duncan's successor is on-going and now intensifying. This is an important phase in the Company's development."
But there was no mention of succession planning this time. Mr Sinclair will turn 68 later this year and the word on the grapevine (at least from last year's AGM) is that Mr Sinclair is in no hurry to relinquish his executive duties.
* No further revaluation developments
MTVW's preceding interim figures revealed the group's trading properties had a current market value of £666m versus a book value of £318m. As expected, there was no further update to the current market value other than to say the figure was "way beyond" the historical-cost number.
Valuation
These results showed trading investments of £323m which, if sold at the the average margin enjoyed during the last ten years, would yield about £840m.
Taxing the resultant gain at 20% and then adding on MTVW's other investments of £29m and subtracting its debt of £61m, I arrive at a possible net asset value (NAV) of £705m or £180 a share.
(That compares to the £74 per share NAV reported by MTVW on a historical cost basis.)
Alternatively…
Using the £666m market-valuation figure presented within November's interim results, and then assuming a 33% uplift for converting the properties from sitting tenancies to normal properties… I arrive at an £888m valuation.
Then taxing that gain at 20%, adding on the other investments of £29m and subtracting debt of £61m, I arrive at a potential NAV of £743m or £190 per share.
With the share price at £120, clearly there is still some upside potential in place here. But the big unknown is just how long it will take MTVW to sell its existing properties to realise my potential £180-plus per share NAV.
All told, it was far easier to judge MTVW back in 2011, when I bought at about £41 and when the NAV — based on historical cost! — was £55 per share.
Meanwhile, the lifted 275p per share dividend supports a 2.3% income.
* Next update — a Q1 update on 19 August.
Maynard Paton
Disclosure: Maynard owns shares in Mountview Estates.