16 June 2015
By Maynard Paton
Quick update on Record (REC).
Event: Final results published 16 June
Summary: Satisfactory results, with a positive outlook and a 10% dividend lift supporting my belief that REC's recovery is gathering pace. However, news of a 10% company-wide salary hike for staff was not so pleasing, and my earnings guess for 2016 has been trimmed accordingly. Nevertheless, the accounts remain impressive and the valuation looks lowly, and I have bought more shares today.
Price: 37p
Shares in issue: 221,380,800
Market capitalisation: £81.9m
Click here for my previous REC posts.
Results: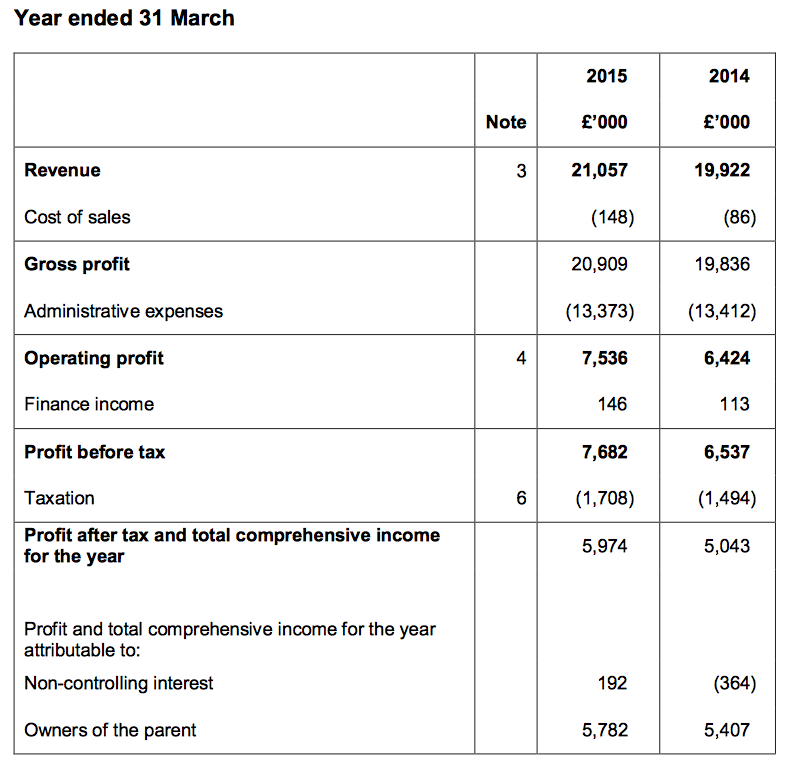 My thoughts:
* These results were quite satisfactory
REC's revenue and profit advances had already been indirectly flagged through the group's quarterly updates — a statement in April revealed effective client assets under management (AUMe) had grown 7% to $55.4bn during the year.
REC described these results as the "second successive year of growth" and certainly the splits between the two halves now show consistent progress following the group's difficulties post-banking crash:
| | | | | | | | |
| --- | --- | --- | --- | --- | --- | --- | --- |
| | H1 2014 | H2 2014 | FY 2014 | | H1 2015 | H2 2015 | FY 2015 |
| Revenue (£k) | 9.872 | 10,050 | 19,922 | | 10,058 | 10,999 | 21,057 |
| Operating profit (£k) | 3,003 | 3,421 | 6,424 | | 3,497 | 4,039 | 7,536 |
* Comprehensive management commentary and full accounting notes
Top marks for REC for publishing what is almost a complete annual report as its final-results announcement.
Few companies provide such comprehensive detail in their RNS statements — especially among companies valued at about £80m — and the lengthy disclosure does give a positive impression of REC's management, transparency and financial controls.
* 'High level of engagement with potential clients'
I was pleased REC could issue a positive view on its near-term prospects (my bold):
"With divergence in monetary policies and geopolitical and economic uncertainty seemingly set to continue for the foreseeable future, contributing to renewed and sometimes heightened volatility in currency markets, we would expect the increased focus on currency-related issues to be maintained.

"This view is reinforced by the current high level of engagement with potential clients and investment consultants across a broad range of currency issues.  The pace and extent to which this engagement translates into new business opportunities is necessarily uncertain."

"However, the Group is well placed to take advantage of such opportunities as they arise by servicing clients' needs to the highest possible standards and in doing so generating long-term sustainable growth for shareholders."
* A pleasant surprise to see the dividend up
The best news for me was a lift to the dividend. The final payout has been raised 20% to 0.9p to take the annual dividend up 10% to 1.65p per share.
REC's payout had previously been stuck at 1.5p per share for the last three years and I'd like to think the uplift underpins REC's upbeat outlook.
* I did not expect all the staff to receive a 10% pay increase
Something I did not expect was REC to give all of its staff a 10% pay increase. The group said (my bold):
"The trend towards higher fixed remuneration in financial services in general and banking in particular is something that the Group has had to recognise.  We have chosen to do so in a way that reflects the contribution of every part of the firm to our clients' outcomes, by a one-off firm-wide salary increase of 10%, with effect from 1 May 2015, outside the normal salary review round."
There was no word on whether REC's employee bonus scheme — where staff share 30% of pre-bonus profits — would be reduced to offset the extra cost. I suspect it won't.
* Accounts still showcase super financials
In particular, these results showed full-year operating margins at a robust 36% and return on average equity (prior to any net cash adjustments) at a healthy 20%.
Cash flow was wonderful yet again, with a minimal amount absorbed into working capital and little spent on fixed assets. It all meant year-end net cash and investments could advance £3m to almost £29m.
* Regulatory capital disclosed at almost £9m
I believe these results were the first to disclose exactly the cash REC needs on hand to satisfy its regulatory requirements: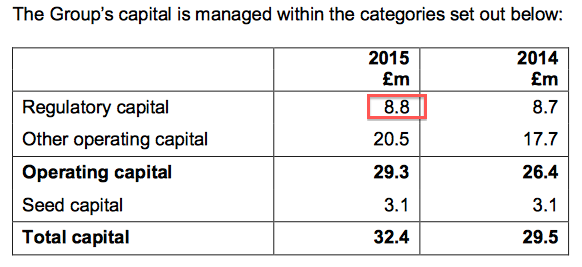 In effect, this £8.8m sum is part and parcel of the underlying business and should not be deemed as 'surplus' cash.
* Still dependent on a handful of large clients
I see REC's spread of large clients has become a little more even:

These results revealed the group's largest client represented 15% of revenue — the lowest proportion since the figure was disclosed in 2010.
REC's results presentation revealed the top ten clients represented 76% of revenue (£16.1m), the lowest proportion since 2011.
* 'Tactical bespoke mandate' still invested

Probably the most significant development to emerge from REC this year was news of a "tactical bespoke mandate"  that brought in an extra $1.75b of client money during March.
The mandate was significant because it involved REC's Currency for Return product, which has generally floundered since the banking crash and but may now be seeing greater client interest. What's more, this product earns lucrative management fees.
Anyway, these results confirmed the tactical mandate in question "remains substantially unchanged" and that "part of [it] may… only be temporary".
In the past I have wondered whether to allow for the temporary nature of this mandate. But I have since concluded there is no real point, since all of REC's clients can withdraw their money at very little notice — and quite a few have done so in the past!
So from now on, my valuation sums will include this tactical mandate in its entirety.
Valuation
Here are my calculations.
First, I've derived potential USD management fees from the AUMe figures and fee rates within these results. I've then converted the USD fees into GBP at £1:$1.56.
| | | | |
| --- | --- | --- | --- |
| Year to 31 March 2016 (est) | AUMe ($bn) | Fee Rate | Management fee (£k) |
| Dynamic Hedging | 9.2 | 0.15% | 8,846 |
| Passive Hedging | 41.2 | 0.03% | 7,923 |
| Currency for Return | 4.8 | 0.16% | 4,923 |
| TOTAL | | | 21,692 |
Next, I've added 10% to the staff cost and subtracted that, other operating costs, and the 30% bonus pool, to arrive at an operating profit:
| | |
| --- | --- |
| Year to 31 March 2016 (est) | |
| Management fees (£k) | 21,692 |
| Less staff costs (£k) | (6,600) |
| Less other costs (£k) | (4,200) |
| Less 30% profit share (£k) | (3,268) |
| Operating and pre-tax profit (£k) | 7,625 |
After standard 20% tax, my sums suggest earnings could be 2.76p per share.
REC's market cap at 37p is £82m. Adjusting that for net cash and investments of £29m and the regulatory capital requirements of £8.8m, I make REC's enterprise value (EV) to be £62m or 28p per share.
Then dividing my EV by my 2.76p per share earnings guess, the P/E for the underlying business comes to 10.
Meanwhile, the trailing 1.65p per share dividend supports a 4.5% income.
* I have decided to buy more
There are few shares around in this market that offer super margins, generous cash flow, veteran management, hefty insider ownership, an asset-rich balance sheet, recovering profits and growing signs of further operational advances — all for a possible P/E of 10. At least that is what I feel you get with REC.
True, there are risks. Major clients and mandates may disappear, and all the talk of greater engagement with new customers may come to nothing. Nonetheless, I have taken the plunge and increased my REC holding by 14% today, buying at 37.1p including all costs. My average entry price is now 25.5p per share, including all costs.
* Next update — a Q1 statement on 17 July.
Maynard Paton
Disclosure: Maynard owns shares in Record.