06 May 2015
By Maynard Paton
Quick update on Andrews Sykes (ASY).
Event: Final results published 06 May
Summary: Results better than I had expected. A dismal first half was followed by a less dismal second half and the outlook for 2015 appears relatively promising. Accounts still showcase solid financials and I'm pleased ASY's 90% owner continues to share the wealth through sizeable dividends. The yield is 7.9% at 300p.  I continue to hold.
Price: 300p
Shares in issue: 42,262,082
Market capitalisation: £127m
Click here for my previous ASY posts.
Results: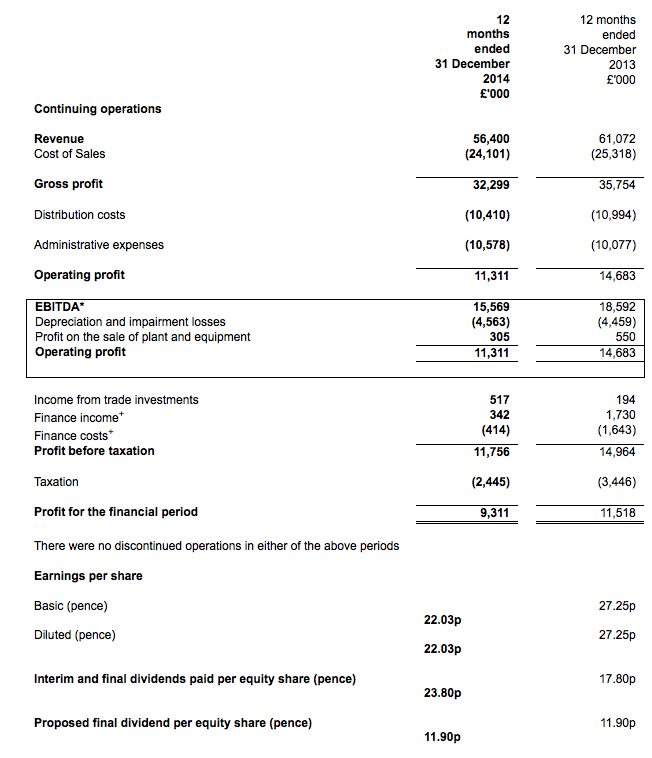 My thoughts:
* These results were better than I had expected
Issued in September, ASY's interim figures had already revealed H1 profits down 32% — apparently, an "unseasonably mild winter" caused lower demand for the hire group's portable heaters. The same statement also owned up to a "disappointing" third quarter.
So it was some relief to read ASY's second half had not fared as badly as the first. Here is the split between the two halves:
| | | | | | | | |
| --- | --- | --- | --- | --- | --- | --- | --- |
| | H1 2013 | H2 2013 | FY 2013 | | H1 2014 | H2 2014 | FY 2014 |
| Revenue (£k) | 29,774 | 31,298 | 61,072 | | 26,759 | 29,641 | 56,400 |
| Operating profit (£k) | 6,427 | 8,256 | 14,683 | | 4,349 | 6,962 | 11,311 |
H2 revenue slipped 5% to push H2 profits down by 'only' 16%.  Today's statement described the year as having witnessed  "challenging trading conditions" — a term used by ASY for at least the last three years now.
Still, ASY did confirm last year's "under-performance" had been "largely addressed" by the end of the fourth quarter — with trading having "nearly recovered" to the levels of 2013.
I was also reassured by the firm's immediate outlook: "Consequently, we are now able to look forward to 2015 with a more optimistic outlook."
* Accounts still showcase super financials
I was pleased a disappointing year did not translate into disappointing accounting measures.
For instance, full-year operating margins were a robust 20% while return on average equity was a decent 22%.
Cash flow appeared good, too, with capital expenditure covered by the depreciation charged against earnings. Year-end net cash looked healthy at almost £17m while the final-salary pension scheme continues to run at a £1m surplus.
The full 2014 annual report should be published by the end of next week and I will double-check ASY's cash flow, including the firm's working-capital movements and the level of any additional pension-scheme contributions.
I also need to look into ASY's trade investments, which have a book value of just £164k but produced an income of £517k last year.
* Mr Murray blessed us with another dividend
The 'idiosyncratic tycoon' that owns 90% of ASY has rewarded his fellow shareholders with another dividend. As you may recall, ASY's past dividends have been somewhat haphazard.
Anyway, a final 11.9p per share payout matches that declared at the half-year stage and gives 23.8p per share for the full year. The payout was not quite covered by earnings, which is why the shares at 300p yield 7.9%.
Valuation
These annual results showed operating profits (plus trade-investment income) of almost £12m, which translated into earnings of £9m or 22p per share.
Subtracting the £17m net cash position from the £127m market cap, I arrive at an enterprise value of £110m or 260p per share. Divide that 260p by the 22p per share earnings and the underlying P/E is 12.
But let's assume ASY can recover from its woes of 2014. After all, profits last year were the lowest since 2005 and have in the past been £6m higher.
The average operating profit reported between 2004 and 2014 is almost £14m, which could convert into earnings of about 25p per share. On my 260p per share enterprise value, this alternative earnings figure supports a P/E of 10.
As I mentioned in my February ASY write-up, my initial 233p buy price equated to a P/E of 8…
And with ASY continuing to struggle to produce any longer-term sales and profit growth, I still believe I need to buy at a similar rating to make the most of the firm's cash generation and dividends.
* Next update — probably interim results during late September.
Maynard Paton
Disclosure: Maynard owns shares in Andrews Sykes.