Last updated: 27 September 2020
By Maynard Paton
This page outlines the resources I use to select my shares, track my portfolio and maintain this blog. I hope you find the details useful.
If you have any questions, just contact me here or leave a comment in the box right at the bottom.
Maynard Paton
---
Contents
---
Investment Resources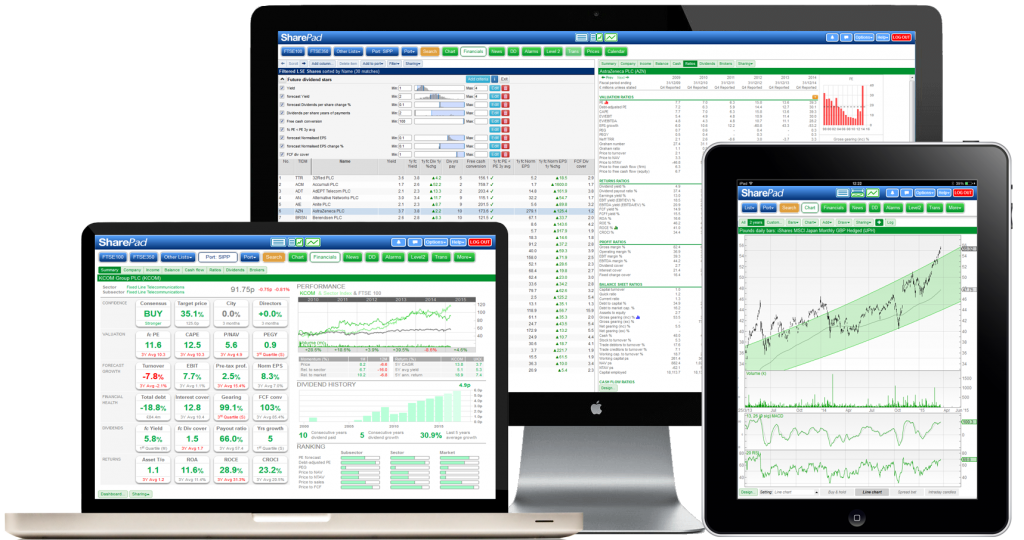 (Disclosure: I write articles for SharePad (visit my SharePad article archive) and receive an affiliate commission from any service subscription created through my special offer.)
UPDATE: This section about SharePad has been enhanced and republished as Why I Use SharePad, where you can discover even more about the best company-data service for private investors. Click here to read the new version.
I have used SharePad since 2015 and consider the service to be exceptional.
The SharePad website has full details of what is on offer, but in brief I use the service mostly for stock screening.
The beauty of SharePad versus Stockopedia and similar services is that SharePad allows you to filter on just about any combination of financial measure.
For instance, you can set up a screen based on all of these conditions:
retained earnings greater than, say, 80% of net asset value, and;
revenue per employee greater than, say, £50,000, and;
a share price within, say, 5% of its 52-week low, and;
director holdings above, say, 10%, and;
net cash greater than, say, zero, and;
a pension deficit of, say, zero.
You just can't do such in-depth filtering within Stockopedia and similar services. Indeed, I have used Stockopedia, Capital IQ, Bloomberg and Company Refs and none has come anywhere close to SharePad's vast amount of UK fundamental data and stock-filtering flexibility.
You can see how I employ SharePad to identify share ideas by watching the webinar below:
The webinar is certainly worth one hour of your time.
Simon Bates and DjNemes1s submitted these great comments on Youtube: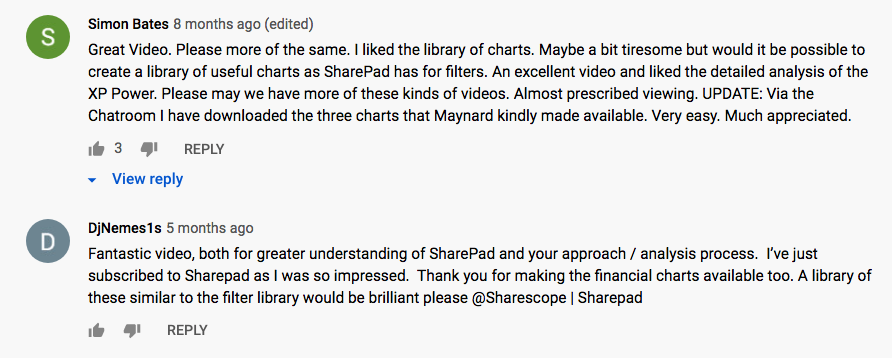 PeterM meanwhile left this great review on Trustpilot: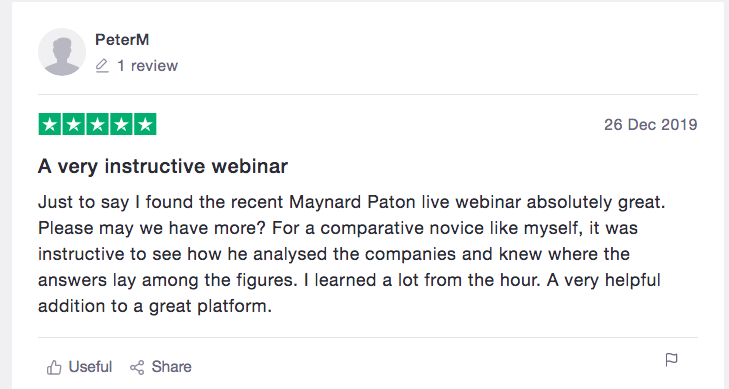 SharePad costs £324 a year, and was the only investment service I paid for before becoming a SharePad article writer.
I must confess, I probably use only 50% of SharePad's capabilities.
The service provides all sorts of intricate price charts, as well as comprehensive data on US stocks and the wider markets. Multi-window layouts and something called the carousel are other features I have yet to really employ.
Anyway, SharePad offers a 30-day money-back guarantee to give you time to assess the service without a full commitment. What's more, special offers occasionally arise that allow you to use the service for three months for something like £30.
Plus… my arrangement with SharePad means you can enjoy your first month free if you join through this link:

If you do join SharePad, please let me know how you get on through my contact page.
I buy and sell my shares using two online stockbrokers — Youinvest.co.uk and Selftrade.co.uk.
I opened a Youinvest account back in 2001 because the broker (then called Sippdeal) offered one of the first cut-price online SIPPs.
Since then, reasonable dealing charges, decent administration and an absence of major problems have kept me as a customer. Youinvest is now the first broker I consider when opening a new account — or as a new home for an old account.
In contrast, I have ended up using Selftrade following various stockbroker mergers. Years ago I had a comdirect account, which became Squaregain , which became Selftrade and then became part of Equiniti.
I have stuck with Selftrade as the trading costs are not too bad, and I have found the service is more likely to trade smaller-company shares 'at best' — and therefore without the use of limit orders — than Youinvest.
That said, the Youinvest website is easier to use, its dealing costs and other fees are cheaper, and the service even allows me to vote on EGM resolutions. The Selftrade website is awful.
I should add that both Youinvest and Selftrade suffered website problems during the sell-off that occurred immediately following the Brexit vote. Other (more expensive) brokers suffered similar difficulties, and I have resigned myself to being unable to deal during times of sudden market turmoil.
The fees for Youinvest are here and the fees for Selftrade are here.
If you own funds, be aware that both services charge percentage administration fees based on the value of your fund investments. I own only individual shares, so my annual account fees are limited to a £30 ISA custody charge (Youinvest), a £100 SIPP custody charge (Youinvest) and up to a £32.46 ISA custody charge (Selftrade).
No doubt there are cheaper broker alternatives. However, I would like to think my time would be better spent hunting for attractive investments rather than trying to save a few pounds moving to a new broker.
MS Money
I record my portfolio transactions within MS Money: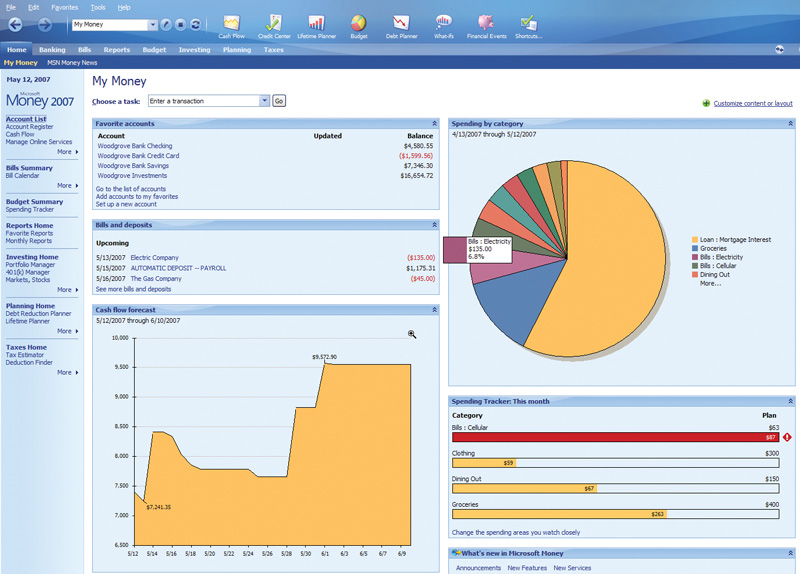 This Microsoft package was discontinued during 2009, but I continue to use it because the thought of transferring all my trade details (dating back to 2004) to another application fills me with dread. MS Money actually works quite well, and provides the calculations for my Portfolio page.
My reluctance to switch from MS Money meant for years I ran an old Windows XP machine purely for hosting this package. Then I discovered VMware Fusion, which allows Windows programs to run on Apple Macs. So now I have a convoluted set-up, whereby I run MS Money on a Mac via Windows XP through VM Fusion.
A quick Internet search found pages such as this where MS Money can be downloaded for free.
I visit Investegate every morning to read the day's regulatory stock-market announcements. This website is free, but has deteriorated over time. The site has become slow due to third-party adverts and sometimes suffers outages at 7am when announcements are published and site traffic peaks.
I prefer Investegate to other sites, such as the London Stock Exchange's own regulatory feed, because:
only the important statements are shown (lots of technical announcements are ignored), and;
the site's design is simple and clear.
Investegate used to send RNS email alerts, but they stopped suddenly a few years ago. I have since set up RNS email alarms within SharePad.
I use ADVFN to check live share prices. I use the site's free service, which gives live prices for about five seconds before being timed out. You simply register for a free account and then create a portfolio for price monitoring.
Importantly, I have installed the ADVFN app on my iPad. That way, when the free live-prices feed times out, the prices do not disappear from my screen.
On a desktop, the prices sadly disappear when the timeout occurs.
The other advantage of ADVFN's iPad app is that you are not deluged with the adverts that appear on the desktop version.
Just so you know, I have never felt the need to pay for Level 2 pricing.
The only other investment resource I use regularly is Companies House.
The beta version allows you to download annual reports for all UK companies for free. Needless to say, the site is incredibly informative.
Of course, you can visit company websites for annual reports. However, Companies House allows you to dig back to the 1970s if need be for past accounts.
For real investigative investing, subsidiary accounts as well as the main PLC accounts can also be downloaded.
Maybe one day we will all have to pay for these downloads. But for now I am making the most of the free access.
I am a full member of FundHunter, a website that searches for the very best funds with an emphasis on ETFs. I am currently experimenting with my son's SIPP with certain tech funds, and the early signs are uncomfortable my own stock-picking. The FundHunter model portfolio has to date outperformed my portfolio by some margin.
Other
I don't bother with mainstream investment publications such as Investors Chronicle, MoneyWeek, Shares magazine, and so on. Having been a share tipster in a former life, I certainly don't bother with any share-tipping services either. The very best investors do their own thinking and find their own buying opportunities, not lazily copy ideas from other people.
I occasionally look at the ShareSoc events page for upcoming company presentations, organised by ShareSoc and others. I am a ShareSoc member, which allows me to attend the events for free.
Enjoy my blog posts through an occasional email newsletter. Click here for details.
---
BLOG RESOURCES
I have used Tsohost.com to host maynardpaton.com ever since I started my website during March 2014.
I chose Tsohost as my webhost because it offered:
good online reviews;
a value-for-money product, and;
a one-click WordPress install.
At the time I had only a brief experience of webhosts through 123-reg, which back then did not offer a simple WordPress set-up.
I simply thought Tsohost's service appeared far better, and I have been quite satisfied with how things have turned out.
One feature of Tsohost's service I have become to really appreciate is the daily backup. Not every webhost provides such backups, and I would not underestimate the reassurance this service provides given the possibility of your site one day not working due to hackers or duff plugins.

I pay Tsohost £60 a year to host up to six websites with up to 10GB of storage.
My maynardpaton.com domain name costs £12 a year and includes privacy protection — so my home address is not shown on pages such as this.
So all in this site costs £72 a year to run and have capacity to host a few others.
The cheapest Tsohost plan at the time of writing allows you to host up to three WordPress blogs. The monthly cost starts from £2.92 a month — or £35.04 a year — (before 20% VAT) using the firm's Startup option:

Every Tsohost customer gets a discount code, and I am happy to publish mine to help you save a few pounds when joining the service.
My code is MAYNARDP10, and you simply type that code into the box as you join: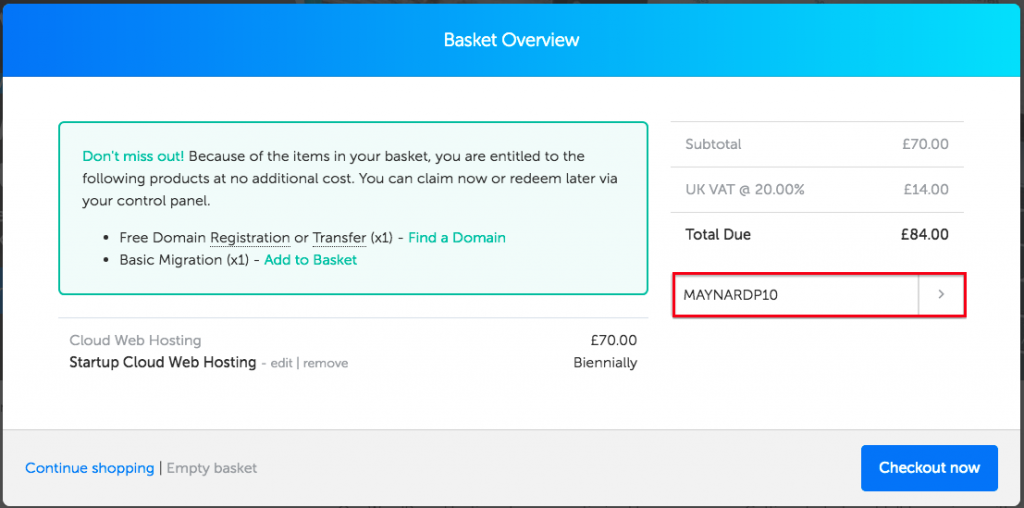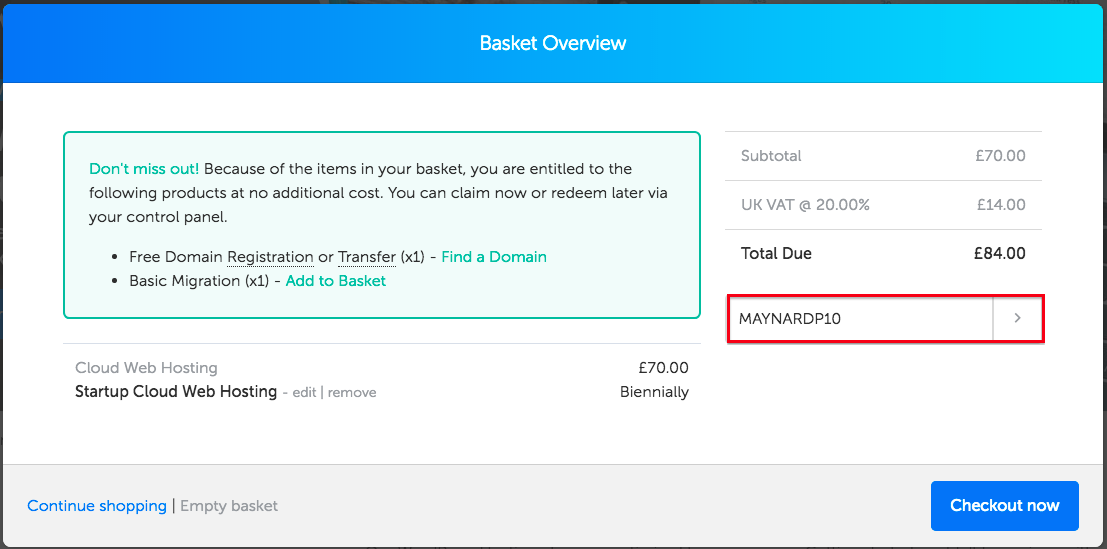 Then click the > to the right of the code to show the discount applied.
If you go for Tsohost's 24-month Startup plan, the saving should be £8.40 (i.e. £7 plus VAT) from the £84: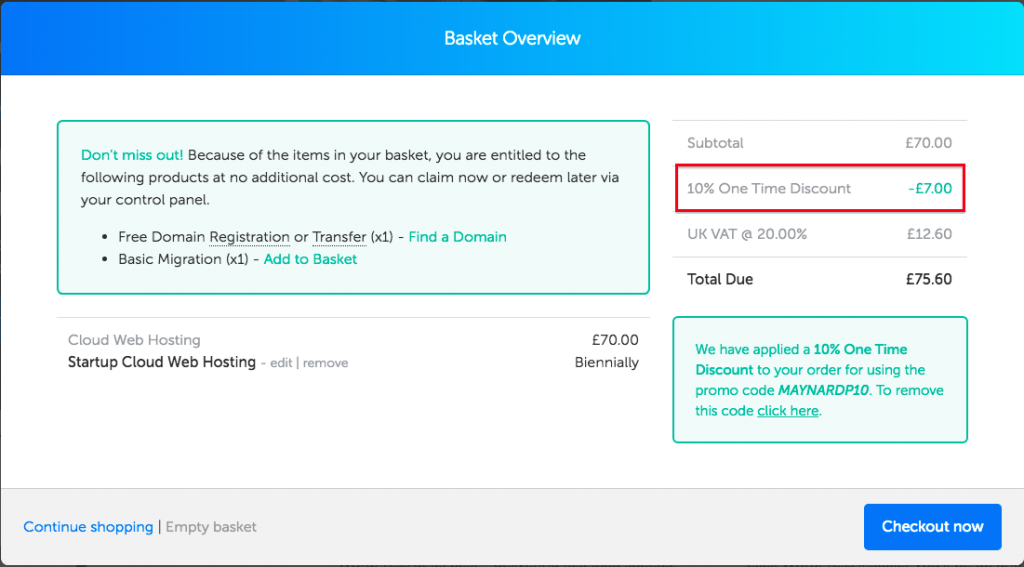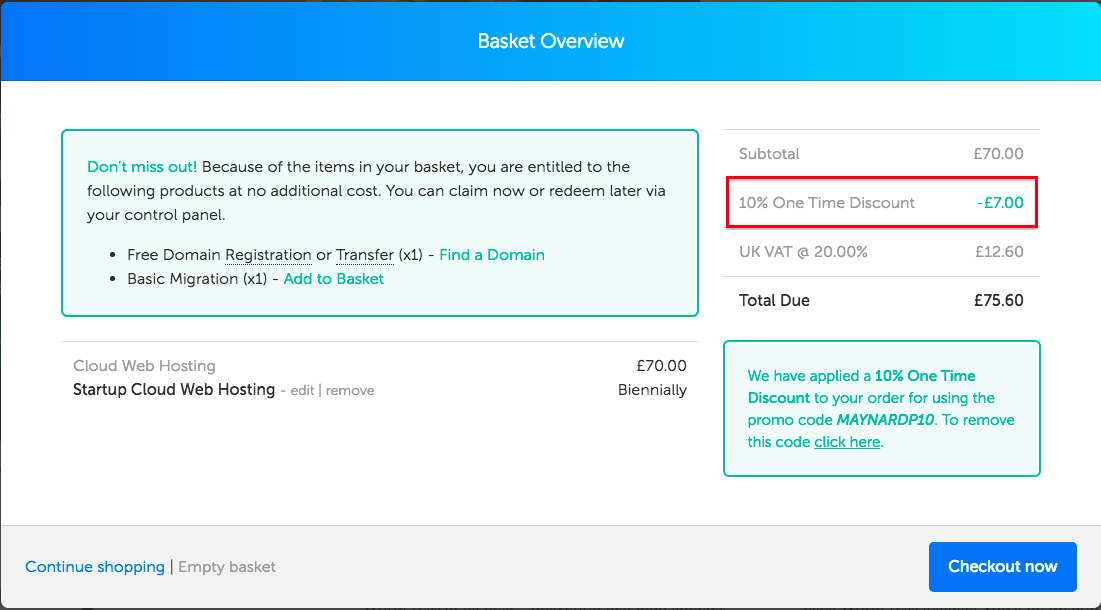 Sadly the discount code — and the free domain name — is valid only for the initial purchase. You will pay the full price when you renew.
Simply click this link to see all of Tsohost's price plans.
I must admit I have not really looked to see if there are better-value hosting alternatives available.
To be honest, I have not really felt the need to, and I would like to think the savings are too small to bother with. Furthermore, the thought of migrating a live website does fill me with dread!
For now at least, I am happy to stick with Tsohost unless its prices increase significantly or the service/support deteriorates badly.
My WordPress Theme and Free Plugins
Here is a quick rundown of my WordPress set-up. Everything in this first batch is free.
Akismet Anti-Spam: Comes installed with WordPress, and has blocked 20,000-plus spam comments, but proven fallible with newsletter spambots (see CleanTalk below).
Comment Approved: Gives the option of an e-mail approval notification to anyone submitting an article comment. (I'm not sure if any visitor to my site has actually used this feature.)
MailPoet 3: A wonderful drag-and-drop newsletter designer.
MainWP: Allows multiple WordPress sites to be managed from one location. A massive time-saver.
Social Sharing (By Danny): Creates a simple social-media sharing link at the bottom of my blog posts. Very neat and code-light.
TablePress: Creates all of my blog data tables. Can be clumsy to use but I am not inclined to look for a better alternative.
The SEO Framework: Helps optimises my posts for search engines and Twitter. Tricky to understand at first but seems to be working.
UpdraftPlus: Backs up my WordPress sites to Amazon S3. Integrates well with MainWP (see above).
WP SpamShield: A legacy plugin that disappeared following a dispute with WordPress. Still works, and overrides Akismet (see above) but still fallible with newsletter spambots (see CleanTalk below).
Premium WordPress Plugins and Services
I have spent money on the following:
1) Anti-Spam by CleanTalk: Quite simply the best defence against spambots around.
Place any newsletter sign-up box on your blog and you are likely to capture no end of dodgy email addresses from spambots.
When I launched my newsletter, I received about 20 fake sign-ups a day: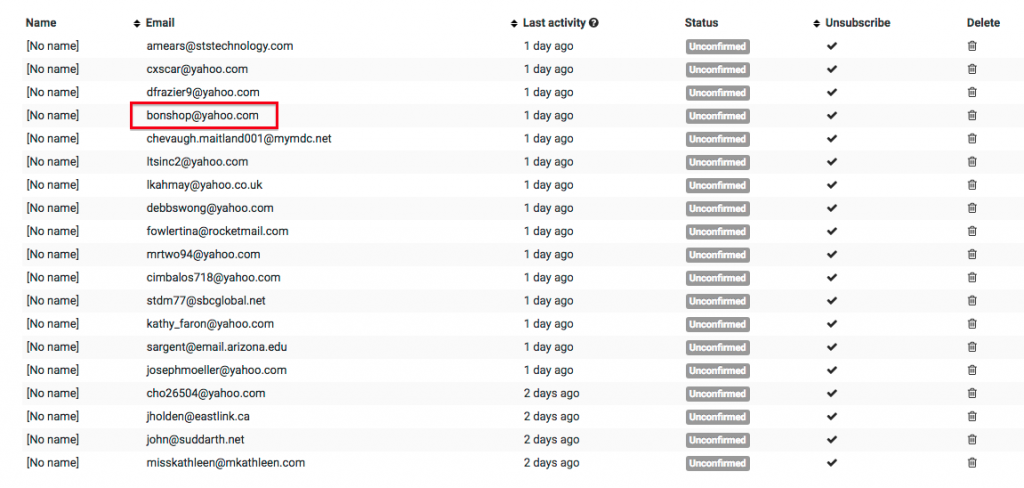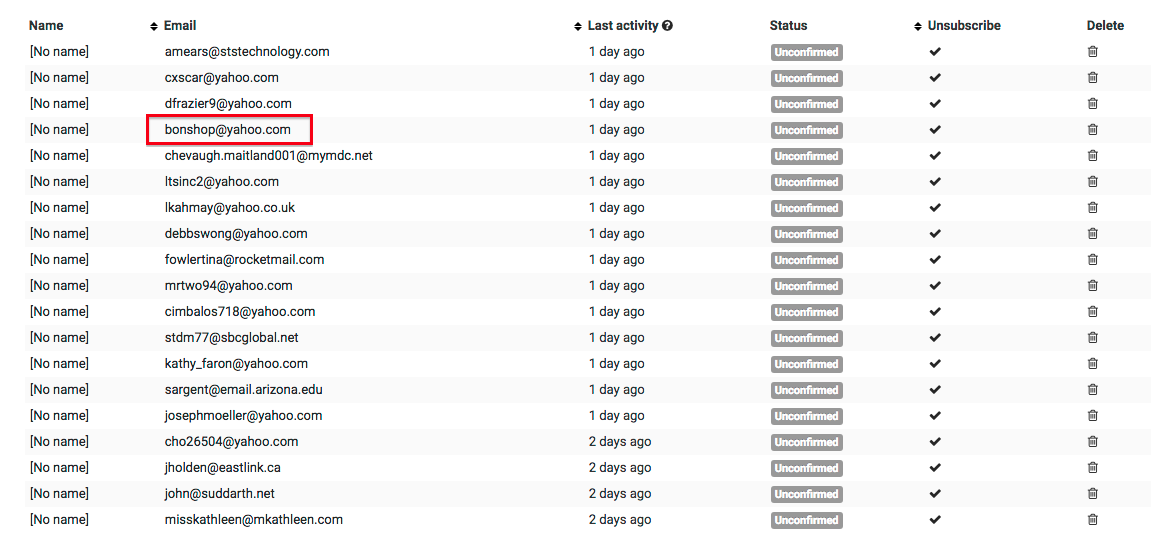 Sadly Akismet and WP SpamShield (and previously Wordfence) all let the spambots slip through.
But a quick Google search indicated CleanTalk had already spotted the spam addresses: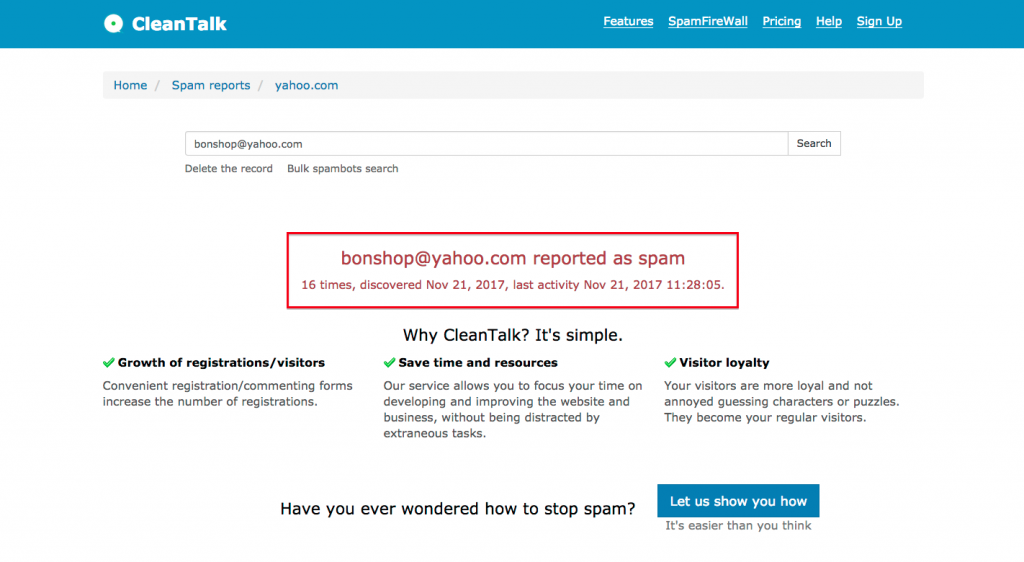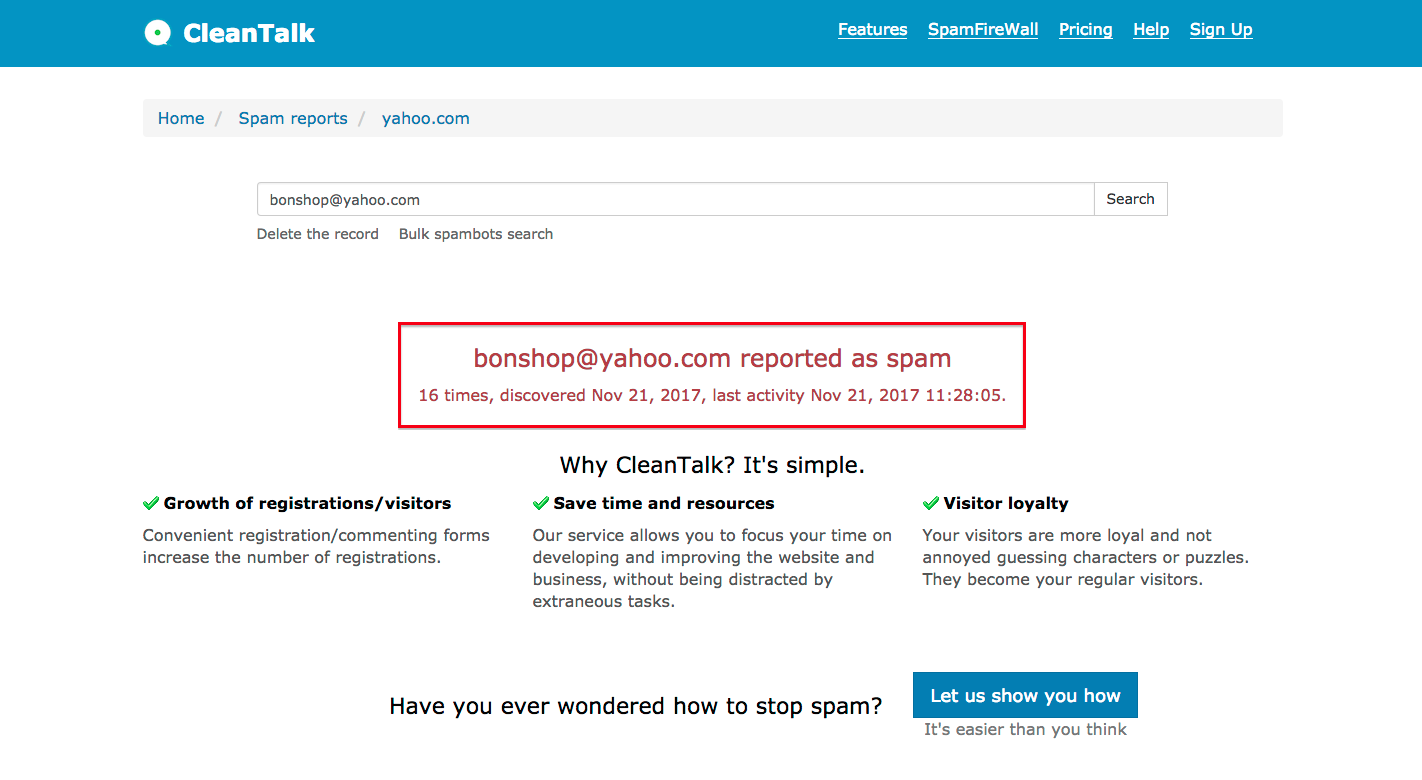 With CleanTalk installed, I now receive two or three fake sign-ups a month, if that. The plugin is utterly brilliant for just $8 a year. And no stupid (re)captchas, too!
Buoyed by the performance of Cleantalk's anti-spam service, I switched from using the free version of Wordfence to using Cleantalk's WordPress Security plugin.
CleanTalk Security is perhaps not as sophisticated as Wordfence, but seems to do the job, includes country-blocking and is cheap at only $20 a year. Country-blocking with Wordfence requires the Pro version at $99 a year.
More details on the CleanTalk website.
2) GPL Vault: Not everyone's favourite website, but the WordPress licensing system means premium plugins can be redistributed at low or no cost by third parties.
I pay $87 a year to GPL Vault to access all sorts of expensive WordPress plugins for experimentation purposes.
More details on the GPL Vault website.
3) GeneratePress Theme, GenerateBlocks and GP Premium: Chosen for the theme's simplicity, lightweight code and 'responsiveness' (how it displays on different screen sizes). Recommended by ace WordPress guru Johnny Nguyen, too. GP Premium provides numerous customisation options for GeneratePress and does away with fiddly styling changes through CSS.
The plugin costs just $50 for the first year and then $30 on renewal.
More details on the GeneratePress website and GenerateBlocks website.
Newsletter Set-Up
I plumped for an unusual newsletter set-up in order to mitigate the long-term cost of maintaining a growing email list.
Most bloggers adopt a service such as MailChimp, which is easy to use and offers a free service for up to 2,000 email contacts.
However, breach 2,000 contacts and the costs can quickly ratchet higher. Having collected 1,000 or so Twitter followers in three years — with barely any Twitter engagement — I was worried my email list could balloon in a similar fashion and leave me broke with MailChimp.
So I looked for a cheaper, long-term alternative and found Sendy.
Sendy is a self-hosted newsletter software package that runs on an Amazon Web Services (AWS) server. The beauty of using Sendy and AWS for sending emails is that your first 62,000 each month are free, and then every further 10,000 cost only $1 (yes, $1!).
To cut a long story short, my annualised AWS server/email costs are pretty much fixed in the £70 to £80 range and I don't have to worry about list sizes or sending frequency.
In fact, so impressed I have been with Sendy and my new-found AWS skills, I have documented the steps I have taken so other bloggers can save £££ on their email bills. Here is the website and full Sendy guide.
If you want to know more about my MailChimp alternative, just contact me here and I will do my best to help.
Maynard Paton