19 January 2017
By Maynard Paton
Quick update on City of London Investment (CLIG).
Event: Trading update and shareholder presentation for the six months ending 31 December 2016 published 17 January 2017.
Summary: CLIG had already acknowledged it would be a Brexit beneficiary, and this week's update was the first to give shareholders some actual figures based on the weakened GBP. Even with client money barely moving, this emerging-market fund manager delivered a very welcome 61% profit surge to ensure the near-7% dividend yield remains safe for now. However, the usual downsides remain — not least stagnant funds under management and rising staff costs. I continue to hold.   
Price: 350p
Shares in issue: 26,896,707
Market capitalisation: £94.1m
Click here for all my previous CLIG posts
Results: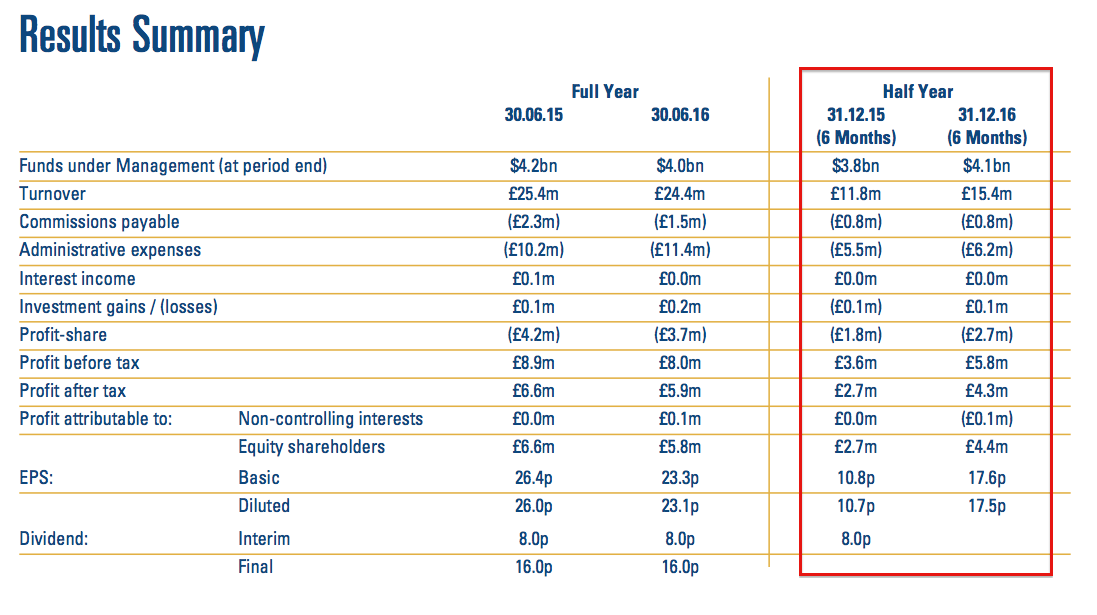 My thoughts:
* These summary figures revealed CLIG's Brexit currency boost
With CLIG's revenue almost entirely collected in USD and approximately 40% of costs paid in GBP, the summary figures contained within the shareholder presentation were always going to look favourable post-Brexit.
In the event, reported turnover advanced 31% while pre-tax profit surged 61%.
Note that CLIG's funds under management finished the half-year at $4.1bn — versus $4bn two years ago — and so the performance was not influenced significantly by extra client money.
A quick check of the archives tells me this six-month period boasted CLIG's highest H1 operating profit — and highest H1 operating margin (37%) — for seven years.
The shareholder presentation also disclosed CLIG's balance sheet carrying a fraction more cash and investments at £12.2m. Most of the group's first-half cash flow was spent on paying the 16p per share final dividend from last year.
Sadly no word was given on future dividends. However, the vast profit improvement could mean an outside chance of the payout improving.
CLIG's dividend has been stuck at 24p per share for six years now and the current earnings run-rate (I'm guessing 29p per share, see below) may one day prompt talk of a raised payout. I'm hoping February's full first-half statement will provide a hint about future dividend levels.
* Changes to the dividend-cover template suggest the payout is safe
The revised dividend-cover template within CLIG's shareholder presentation suggests there could be scope to lift the payout.
Three months ago the template looked like this: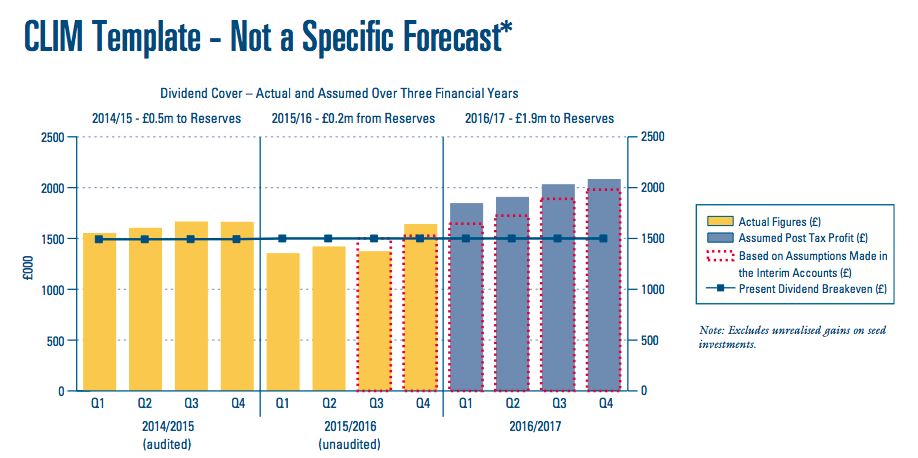 And now it looks like this: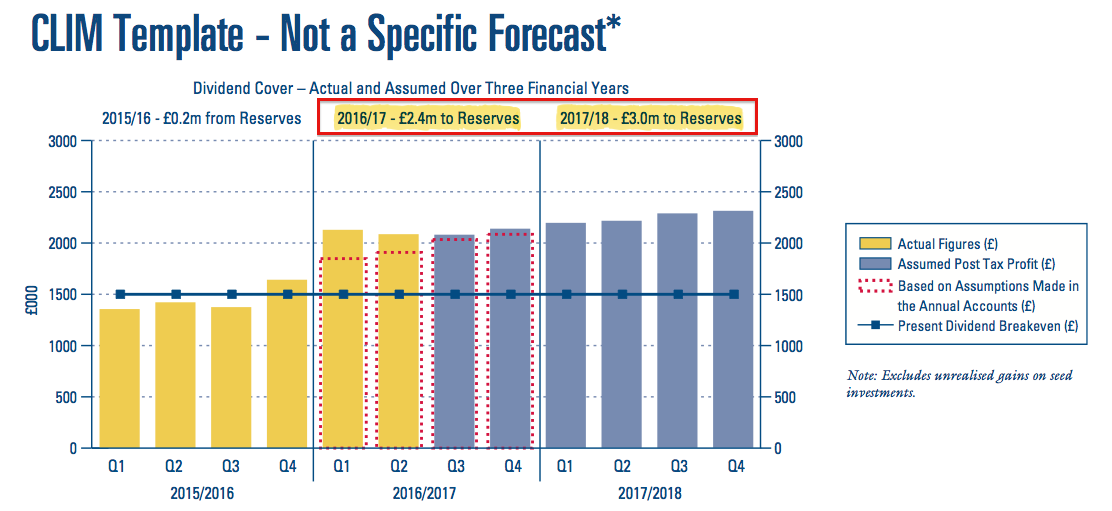 Essentially CLIG reckons it could now retain earnings of £2.4m during the current year — versus £1.9m previously expected.
Initial assumptions for the 2017/2018 financial year indicate earnings of £3.0m could be retained after dividends (of about £6m).
While CLIG should be given credit for publishing these templates — I can't think of another quoted business that provides anything similar — I must admit they have proven to be somewhat optimistic in the past.
What seems to undo CLIG's projections is a mix of falling markets and client withdrawals.
For what it is worth, CLIG estimates it can collect an extra $250m of client money during the current second half, and an extra $250m during the following financial year.
(No explanation was given as to why the estimate for next year runs at 50% of this current year).
I also see predicted overheads are set to rise 10%-11% on last year, and that the awful extra bonus pot will skim a projected 2% from operating profit (although the scheme can snaffle up to 5%).                        
Anyway, I shall continue to ignore CLIG's template forecasts and simply base my valuation sums on the here and now.                                                      
* Illustrative profit table revised for slightly lower fee rate and slightly higher costs

CLIG's regular exchange-rate/funds under management matrix has been tweaked unfavourably: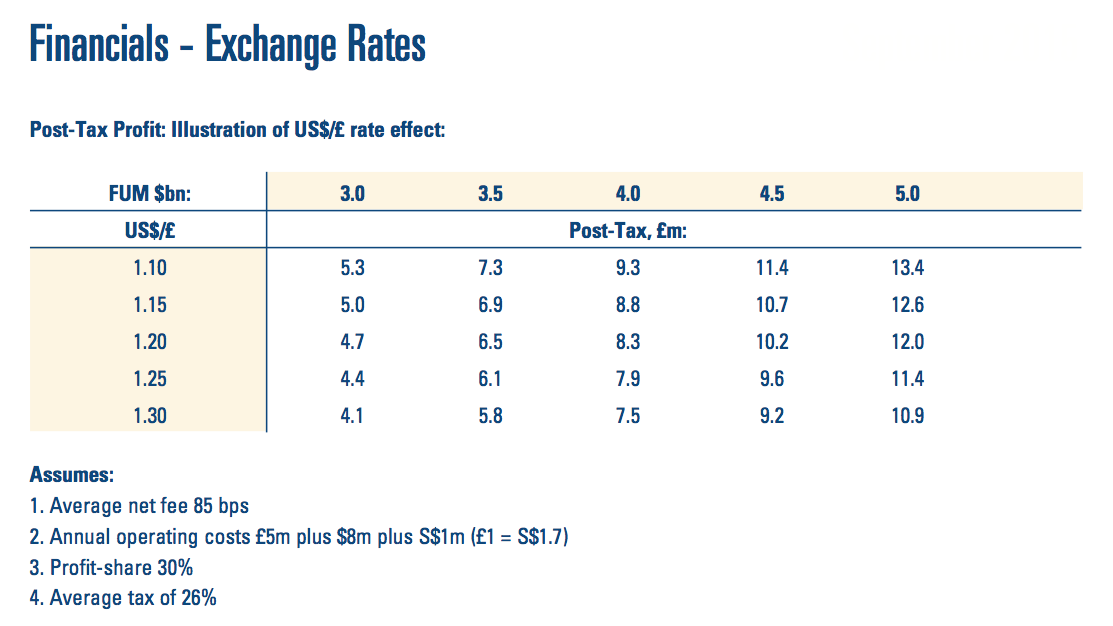 Clients were previously expected to pay fees at 86 basis points on the money they invested. Now they are expected to pay 85 basis points.
Furthermore, the cost of running CLIG's Singapore office has increased by 6% in GBP.
The old matrix would have converted $4.1bn at £:$1.23 into possible earnings of £8.60m, but the new one now gives earnings of £8.41m.
(For my valuation sums, I have modified this profit table to account for the impending increase to the staff bonus pot from 30% to 35% of pre-bonus operating profit.)
* Investment performance lagged the benchmarks during 2016 
CLIG's trading update RNS owned up to some poor fund performances:
"Investment performance in the Emerging closed-end fund (CEF) strategy over the short term has been challenging. Our country allocation in 2016 was weak and this was compounded by poor net asset value (NAV) performances of the underlying CEFs."
The shareholder presentation disclosed the group had lagged all three of its benchmarks during 2016: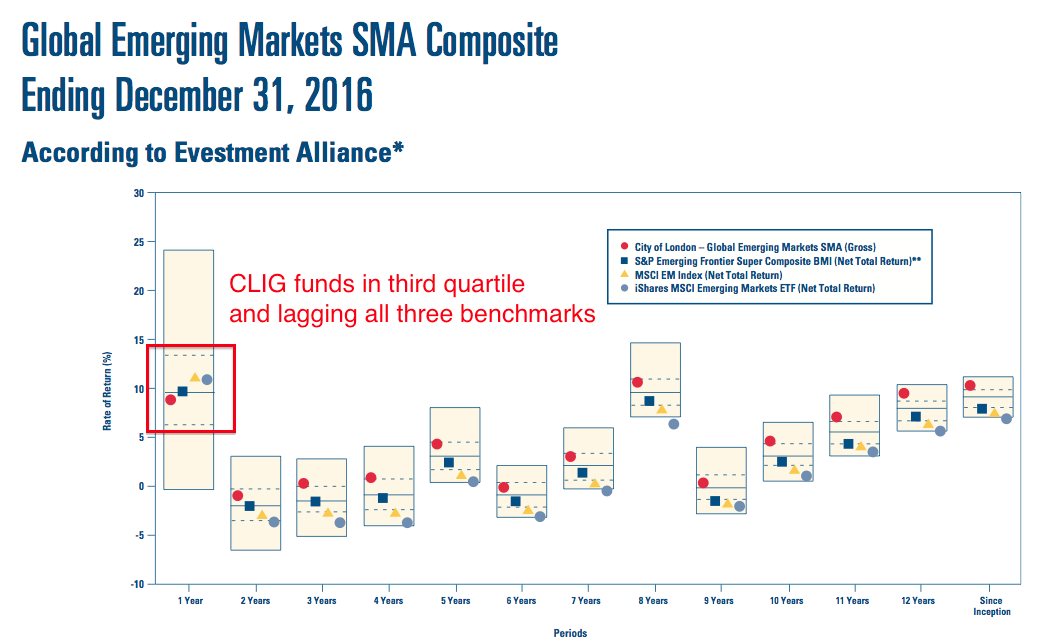 The lack of progress won't help the quest for new client money — and in turn help the group break decisively past the $4bn funds level.
* Marketing run-off costs becoming closer to zero
CLIG ended a third-party marketing agreement a few years ago and the associated commission payments continue to dwindle: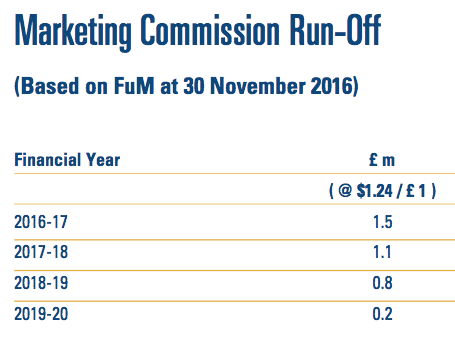 Paying next to nothing by 2020 no longer seems that far away.
I recall past presentations showing annual marketing payments of more than £5m.
Valuation
Using the above exchange-rate/funds under management table, but applying a 35% staff profit share, I arrive at earnings of £7.81m or 29p per share with client money at $4.1bn and £1 buying $1.23.
After adjusting for cash, investments and regulatory capital, my enterprise value (EV) for CLIG is roughly £83m or 310p per share. Dividing that EV by my earnings guess gives me a possible P/E of 10-11.
That multiple does not look outlandish at present, although bear in mind i) the shares have rarely traded at extended multiples in the past, and; ii) client funds have essentially stagnated at about $4bn for five years.
Meanwhile, the 24p per share dividend pays a 6.9% income.
Maynard Paton
Disclosure: Maynard owns shares in City of London Investment.