FREE
Screeners Tested:
Telegraph vs
Yahoo Finance vs
Morningstar
Last updated: 09 September 2020
By Maynard Paton
So you want to search for winning shares but don't want to pay for a premium stock screener?
Bad news I'm afraid.
My investigation into free screeners provided by the Telegraph, Yahoo Finance and Morningstar revealed these significant drawbacks:
Non-existent or incorrect data;
Restrictive filtering capabilities;
Limited results information, and;
Time-wasting data cross-checking.
As with most things in life, you get what you pay for with free screeners — which I dare say could lead to disastrous investment decisions based on duff information.
In contrast, spending a bit of money to enjoy:
Greater data and results reliability;
Vast filtering options, and;
Comprehensive, at-a-glance company dashboards…
…will allow you to identify potentially great buying opportunities in the shortest amount of time with the least amount of work.
Indeed, the cost of a premium stock-screener could easily become insignificant compared to the possible gains you could enjoy after quickly pinpointing your next winning share.
Just so you know, I use a paid-for service called SharePad to turbo-charge my stock-screening searches and I will demonstrate why in a minute.
But first, those free screeners, my experience of using them… and the difficulties encountered when applying even a simple dividend filter.
Disclosure: Maynard does not own any share mentioned in this article. This article contains SharePad affiliate links.
---
Contents

---
Telegraph Market Hub
Let's start with the Telegraph's Market Hub.
This service just does NOT work, at least for searches based on fundamental company data.
For example, I chose the defaults for Presentation format and Assets…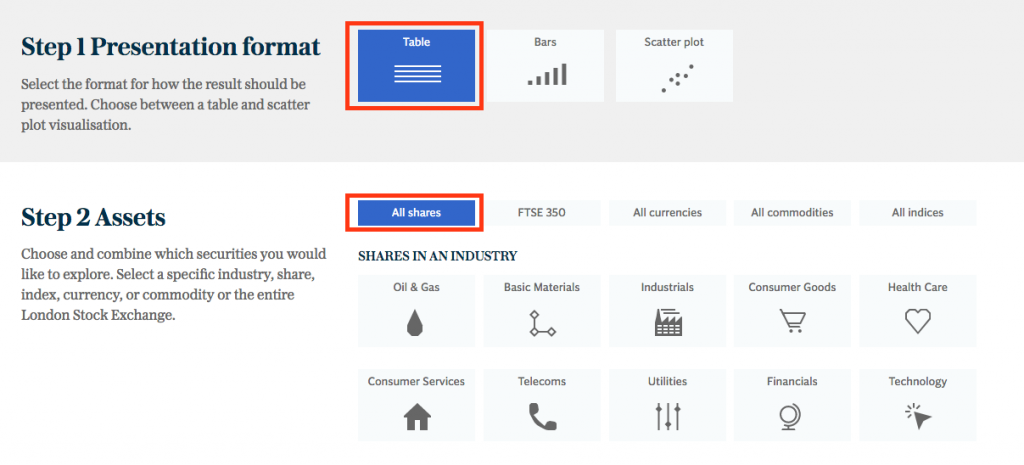 …and then Fundamental data and Dividend Yield…

…and no results were returned:

After selecting other Fundamental criteria, I discovered this screener has no company accounting data whatsoever.
By the way, the Telegraph's small-print does say: "Fundamentals are only available for certain shares".

The Telegraph's service used to work. This Monevator article from 2012 employed the site to dig out a collection of high-yield shares. But sadly all the fundamental data has since disappeared.
---
Yahoo Finance
Next up is Yahoo Finance.
At least this site has fundamental data.
I selected 8% – 10% for Dividend yield%…

…and received 82 matching companies, of which 12 had market caps of £1 billion or more:

An immediate drawback to Yahoo is you don't get to see the chosen data (in this case dividend yield) in the results.
You must click on the company tickers for the extra information… where further issues then arise.
Here is Yahoo's dividend information for British American Tobacco: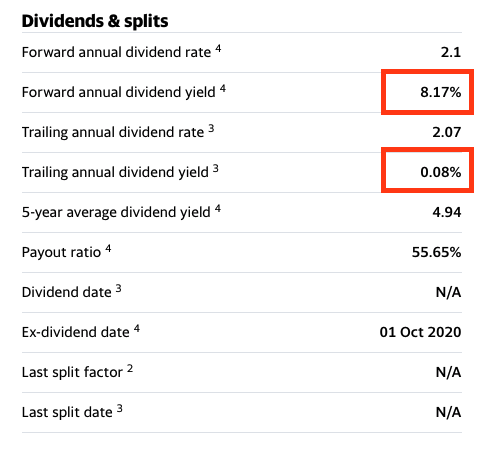 The forward annual dividend yield is shown correctly as 8.17%, while the trailing annual dividend yield is shown incorrectly as 0.08% rather than 8%.
Worse, the 82 matches include shares that clearly do not offer dividend yields of between 8% and 10%.
Of the 12 shares shown, BT, Ferrexpo, Glencore, Hays, OneSavings Bank, PageGroup, Redrow and Vistry do not yield between 8% and 10% according to Yahoo's own data!
In fact, OneSavings Bank and PageGroup don't even offer a dividend, at least according to Yahoo: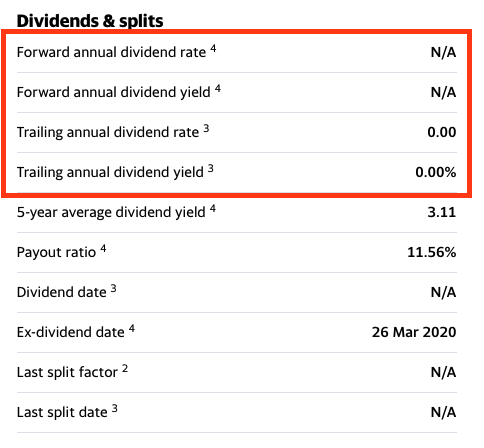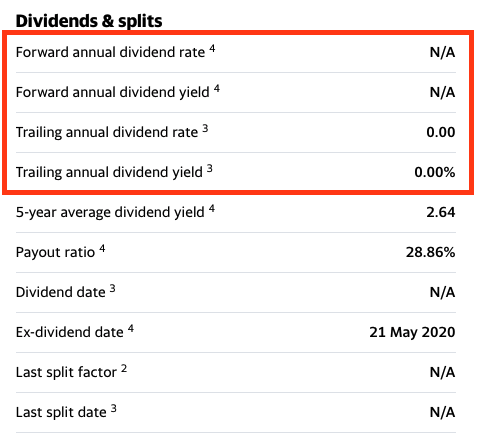 That left me with four genuine matches: British American Tobacco, Jupiter Fund Management, Legal & General and Standard Life Aberdeen.
Trouble is of course, I had to spend a lot of time clicking back-and-forth to weed out all the erroneous results to get to those genuine matches.
---
Morningstar
Finally we have Morningstar.
I set the Dividend Yield (%) filter to > 8%…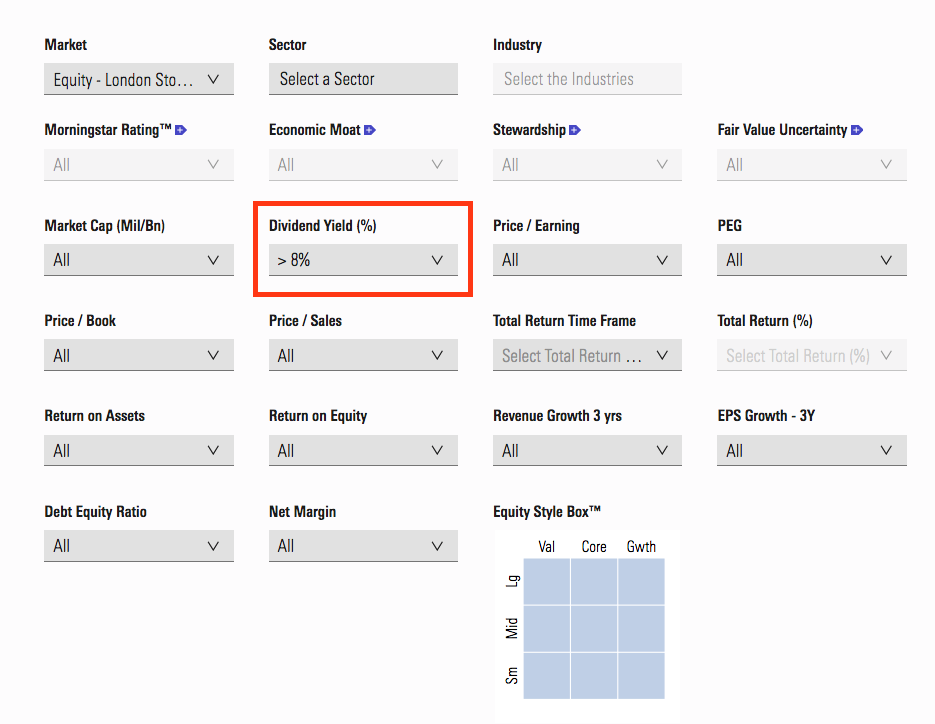 …and Morningstar returned 98 results, of which 40 had market caps of £1 billion or more: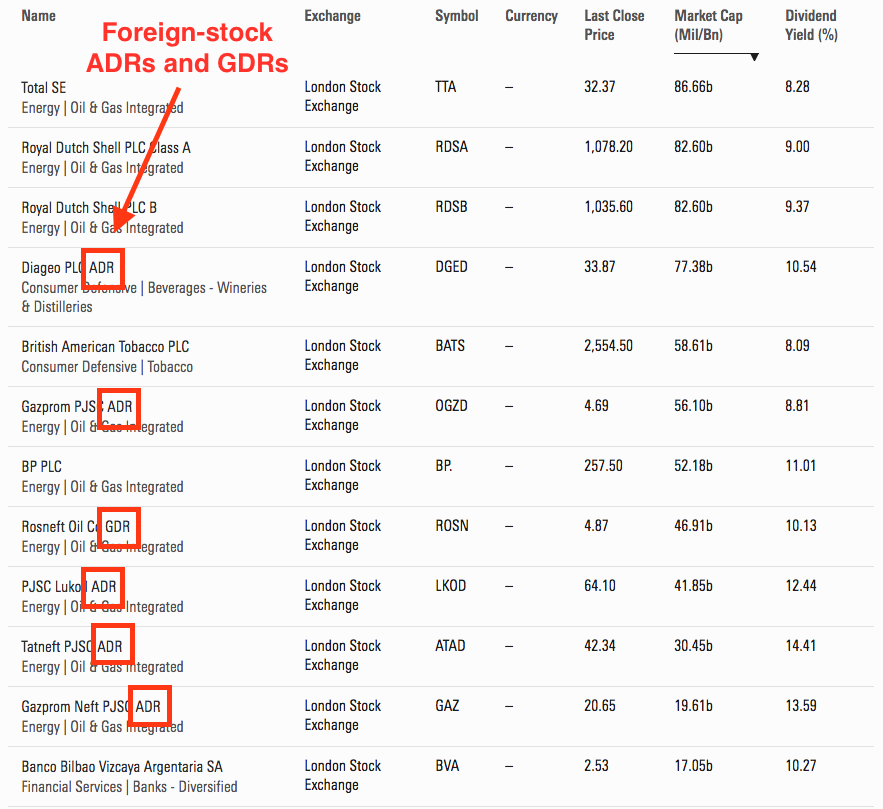 An immediate downside to Morningstar's service is the inclusion of foreign-stock ADRs and GDRs. Such stocks can dominate the screening results and make finding the more familiar FTSE names much harder.
Ignoring all the foreign shares and those FTSE companies with stated yields above 10%, Morningstar gave British American Tobacco, Jupiter Fund Management, Legal & General, Royal Dutch Shell and Standard Life Aberdeen.
Similar to Yahoo, Morningstar's results show a limited number of columns. I had to waste more time by clicking back and forth to double-check other fundamental data — which admittedly does seem comprehensive:

Morningstar is far from perfect though. Selecting 20 – 40 for Return on Equity returned only a single match: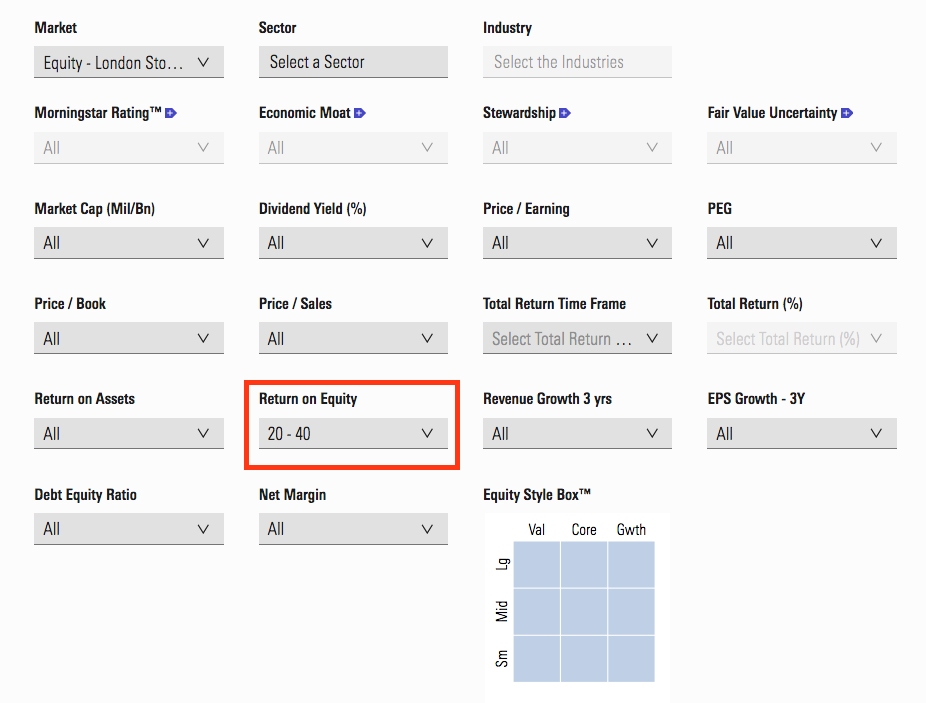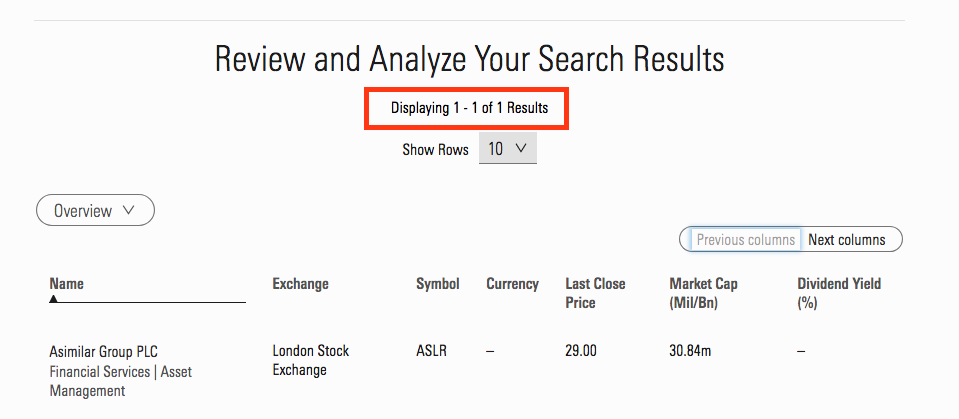 Morningstar's RoE data is therefore clearly wrong.
In addition, Morningstar's filters are restrictive and very odd. For example, you cannot really screen for shares trading below book value.
The price to book filter instead limits you to shares trading at between 0 and 10 times book: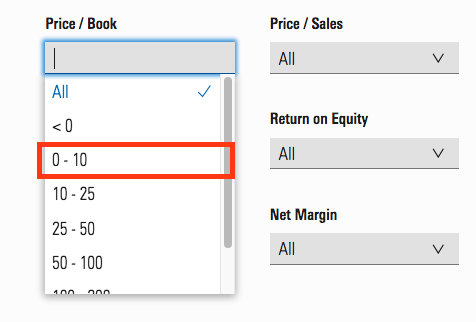 To therefore find a share trading between 0 and 1 times book value, you would have to click on each result individually (more than 1,400 shares!) to cross-check the book value ratio…
…because the price to book value ratio is not shown in the results columns!
---
How does SharePad compare?
I employ SharePad for my stock screening and even a simple search for high dividend yields can showcase the power of this service.
Advantages to using SharePad include:
1) Greater data and results reliability:
You will actually receive sensible ideas to investigate, and won't be overwhelmed with completely incorrect matches or obscure foreign shares.
My comparable high-yield search on SharePad revealed eight matches, including British American Tobacco, Jupiter Fund Management, Legal & General and Standard Life Aberdeen that were the identified by Yahoo and Morningstar:

The other four matches found by SharePad can be quickly assessed by adding extra data columns and/or scanning the Summary dashboard (see below).
2) Comprehensive, at-a-glance company dashboards
Within SharePad you can add extra columns to your filter results and/or simply scan the Summary dashboard on the right to immediately see all the information you need.
You will therefore not waste hours clicking back-and-forth to cross-check your data as you must with the free screeners.

3) Vast filtering flexibility
You can screen for any yield range you wish and on different yield types, too.
For example, rather than screen for yields between 8% and 10%, you could screen for, say, yields between 7.6% and 11.4%.
Furthermore, you can screen on the 1-year forecast yield, the 1-year trailing yield or the current yield… or screen on any combination of the three!

In contrast, the free screeners limit you to a single (undefined) yield figure and a handful of pre-defined yield ranges.
---
I trust my experience of free screeners will dissuade you from relying on them to make your own investment decisions.
Free screeners are a false economy — what you 'save' is more than counterbalanced by the risk of unreliable data and the immense extra work required to manually filter and cross-check the results!
If you wish to identify potentially winning shares in the least amount of time, then I would recommend joining me today using SharePad. I am convinced you will quickly become full of great stock ideas once you try the service.
The following links provide more information on SharePad:
Readers of my blog can take advantage of this exclusive SharePad offer, which gives new SharePad subscribers a full month of free data alongside a 30-day no-quibble refund guarantee.
Happy screening!
Maynard Paton
---