Here's an explanation of my current projections for Tasty (LON: TAST).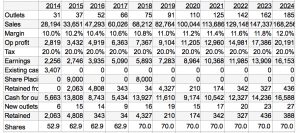 Outlets (A): The average number of outlets trading during the year
Sales (B): Annual sales for that year (A*sales per outlet)
Margin (C): Operating margin
Op profit (D): Operating profit (B*C)
Tax (E): Tax
Earnings (F): Earnings (D*(1-E))
Existing cash (G): Balance-sheet cash at the start of the first year and available for investment in new outlets
Share placing (H): Cash raised from projected share placing
Retained from last year (I): As per L
Cash for outlet expenditure (J): F+G+H+I
New outlets (K): Number of outlets to opened in the following year
Retained (L): J – (K*cost of outlet)
Shares (M): Shares in issue
I have estimated Tasty's annual sales per outlet to be about £900k and cost of outlet to be £600k. I have estimated the initial £9m fund raising adds 10m shares and the second £8m fund raising adds a further 7m shares.